How many books do you take with you when you go on holiday?
That's the question I'm pondering as I'm packing my bags for my first long overseas trip.
Usually, I'd take several but this time, in the interest of packing lighter (there may be an ulterior motive aka buying clothes in Paris and London), I have only packed ONE print book.
The book I chose was The Strawberry Thief by Joanne Harris, a follow-up to Chocolat, one of my all-time favourites. Have you read it? I'm really looking forward to it.
I've also added books to my Kindle app and I'll be reading them on the iPad. I recently discovered Sarah Waters via The Little Stranger, which I loved, so I'll be reading Fingersmith, a 2002 historical crime novel set in Victorian era Britain while I'm away. I've also added The Blue by Nancy Bilyeau. Have you read either of them? I'd love your comments.
Among all the preparations, I have been reading avidly and this month I'm reviewing three books.
First up is When It All Went to Custard by Danielle Hawkins. This is the fourth book I've read by Danielle and, like the previous three Dinner at Rose's, The Pretty Delicious Cafe and Chocolate Cake for Breakfast, it was entertaining from start to finish. Jenny's life post cheating husband certainly does go to custard, what with her sister wanting to sell the family farm and her young children's unhappiness at the break-up. But custard's not all that bad, especially when a grumpy-but-cute neighbour and some "awesome sex" is added to the mix. Light-hearted, funny and convincing all the way through, there was a giggle on almost every page for me, and it was just what I needed. But it's not just about the warmth and the laughter – Danielle has a gift for creating terrific, believable characters who spring to life off the page. I could picture in full colour the old pain in the neck John with his cabbage-wrapped leg and later, Jenny's smart-arse ex dropping his towel as he walked away in one scene. If you like your contemporary fiction with a dash of humour, don't miss this one.
Thanks to HarperCollins for the ARC.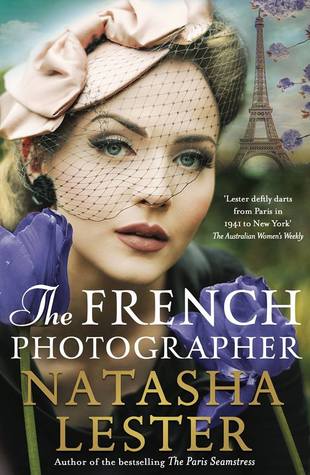 What can I say about The French Photographer by Natasha Lester that hasn't already been said? Natasha goes from strength to strength, delivering old fans and new immensely engaging stories one after another. I don't know how she does it (although if you check her blog, she shares a lot of her process)! Inspired by the true story of American photographer and photojournalist Lee Miller, The French Photographer is romantic, captivating and bursting with historical insight. It's exactly what I've come to expect from Natasha, but each time, she surprises me with how effortlessly she transports the reader from wherever they are to Paris, London, the war front and so on. Her writing is graceful and assured and … enviable!
The French Photographer shines a light on a dramatic and turbulent time in history, but also on the talents of a writer I very much admire. If you're a fan of historical fiction and you haven't yet checked out Natasha Lester's books … well, what are you waiting for?
Thanks to Hachette for an ARC of this book.
Lastly, The Cinema at Starlight Creek by Alli Sinclair is another dual timeline book that hooked me this month (especially that gorgeous cover). I've been a fan of Alli's since her first book and I've especially enjoyed her most recent books set in Australia. To me, she's also going from strength to strength. The Cinema at Starlight Creek is a story of choices, of hindrances, of dreams, secrets and lies. But above all, it's about courage, as two women in two different times follow their dreams in the male-dominated film industry. In the 1950s, Lena dreams of being a Hollywood star, but learns that her career comes with a price. Is it too much to pay? In 1994, Claire dreams of making documentaries and when she stumbles across a beautifully preserved but unused art deco cinema, she sees her chance. But like Lena, she learns that success can come at a cost. Two strong female leads took this story into my heart and reminded me that passion projects might come with hurdles, but hurdles are meant to be leapt over. Thanks to HarperCollins for an ARC of this book.
I've also had a sneak peek of Love and Other Battles by Tess Woods, but I'll save that review for next month. Hint: I really enjoyed it.
And right now, I'm re-reading The Elegance of the Hedgehog by Muriel Barbery in preparation for my trip to Paris. Yes, I'm heading off to Paris on Friday for a few days and then on to London and Oxford and Dartmoor and Edinburgh. I've been waiting a long time for this and I'm super excited! There will be photos!
Over to you. What have you been reading?