IN THIS SERIES, I'M GOING BEHIND THE SCENES (OR, BEHIND THE PAGE) WITH PEOPLE WHO WORK IN THE BOOK INDUSTRY, WHETHER PROFESSIONALLY OR IN A VOLUNTEER CAPACITY. THIS WEEK, I'M CHATTING WITH ASHLEY KALAGIAN-BLUNT ABOUT PODCASTING AND WRITING. GRAB A CUPPA AND HAVE A READ…
What led to the creation of the James and Ashley Stay at Home podcast?
Before the pandemic, James left Sydney for a job in regional NSW. We'd met through our Writing NSW writers group a few years before, and then became friends as we talked more about our invisible illnesses – I have chronic fatigue syndrome; James has chronic inflammatory demyelinating polyneuropathy.
When the push to stay at home started in early 2020, James and I realised that between writing and our illnesses, we were experts at staying at home. And we figured there were a lot of other creative people who were too, and boy would we like to talk to them, and share those conversations with others who may be living through similar and connected experiences. It was James's suggestion, and like so many of his ideas, it was a good one.
What is the aim/motive behind your podcast?
We explore the intersection of three topics – creativity, writing and health. We've spoken to an incredible range of people including award-winning, internationally published writers, a comedian managing anxiety, and an art therapist who works with first responders and military personnel suffering PTSD.
How has chronic illness affected your writing?
At first, chronic fatigue syndrome shut down my writing, just like it shut down everything else in my life.
Then, trapped at home alone, the illness taught me to use my creative practice as a refuge. Even when I cold only work for 15 or 20 minutes a day, it reminded me that there was a world beyond the confines of my apartment, and I could still be part of it. James and I both discuss this in Episode 10.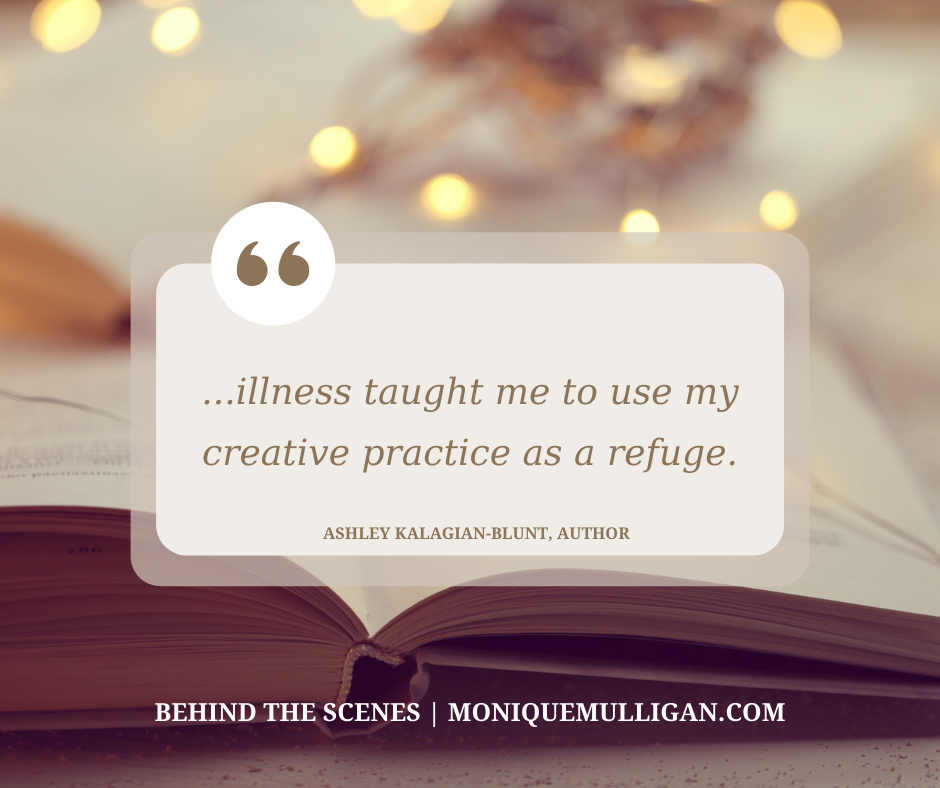 How do podcasts build community?
In my experience, they build community through shared interest and experience. For example, James and I aim to have meaningful conversations about writing, creativity and health, and make them available to anyone interested – it's a self-selecting community. Each episode becomes a shared experience between the hosts, guest, and listeners. I think the rapport between James and I help as well. Listeners have told us it feels like hanging out with friends.
How much support has it had from authors and readers? How do you get the word out?
The support has been fabulous – we've had great reviews on Apple podcasts, and lots of people sharing episodes on social media. I share the episodes online, and also when I teach creative writing. For example, in writing workshops, I always share Kate Mildenhall's popular episode on navigating creative anxiety.
How much time do you and co-host James spend on the podcast? Who does what?
The podcast works because we have a clear divide in our roles. James does all the technical work – looking after recording quality, and editing and posting each episode. I invite guests, schedule recordings, and look after all our social media and other promotion. We both suggest ideas for guests and interview topics, read the books, and write interview questions.
In terms of time, at least 10 hours goes into every episode – and that doesn't include reading any books we plan to discuss! This is why we release episodes every fortnight, instead of weekly. It's also why I wouldn't try to do it on my own.
What do you like most about podcasting?
The same thing I like most about writing – the opportunity to connect with interesting, smart people and discuss compelling topics, including what it means to be human.
What are three qualities a successful podcast needs to have?
Engaging content, good recording quality, and a strategy for connecting with listeners.
What are some of the challenges you've faced in the podcasting journey?
Our biggest challenge is managing our respective health, since each episode requires significant time and energy from both of us. We manage this by planning well in advance and leaving ourselves a lot of buffer time.
We also have the usual challenges, like attempting to record while a neighbour is mowing their lawn or my dog has spotted one of his many nemeses out the window and launches a major bark attack. Scheduling an interview with three people when one of them works shifts and at least two of them have unpredictable health can be challenging, but somehow we've made it work for more than 50 episodes so far!
Why do you think so many people are making podcasts now?
Podcasting is intimate! You get to share about a topic you're passionate about and speak directly into listeners' ears. And it's fun. We've had the opportunity to interview some incredible authors, including Nardi Simpson, Emily Maguire, Elizabeth Tan and David Heska Wanbli Weiden.
Which podcast, aside from your own, do you enjoy listening to?
Writing podcasts: The First Time with Kate Mildenhall and Katherine Collette; Words and Nerds with Dani Vee; and Writers Book Club with Michelle Barraclough. All full of useful and supportive advice for any writer!
Other podcasts: Women & Crime (my absolute favourite crime podcast, hosted by two very clever women with PhDs in criminology); Revisionist History with author Malcolm Gladwell, deep dives into a wide variety of fascinating topics; and Free to a Good Home with Sydney comedians Ben Jenkins and Michael Hing, who ostensibly discuss the internet's 'best and worst classifieds', but basically just talk a lot of entertaining rubbish.
Tell me more about your own books.
How to Be Australian is a memoir about how I persuaded my new husband Steve to leave snowy Canada and join me for a year Down Under, thinking it would be an easy transition. After all, Australia's just Canada with more sunshine and strange animals, right? But we soon discovered things aren't so simple. Ultimately, it's about discovering an Australia I could belong to.
My first book, My Name Is Revenge, combines a thriller novella and collected essays, based on true events. On 17 December 1980, at 9:47 am, two men shot the Turkish consul-general to Sydney and his bodyguard near the consul's home in Vaucluse. The assassins aimed, fired, and vanished. My Name Is Revenge is the story of a young man seeking justice, and the little-known history that led to a series of over 200 terrorist attacks around the world, including here in Australia.
When you're podcasting you're talking about other writers' books. As an author, how do you get the word out about your books? Do you enjoy the marketing aspect?
Paradoxically, talking about other people's books is a great way to promote your own books. It's offering potential readers a way of engaging with you on a regular basis.
Consider this – when we launched the podcast in June 2020, James had pretty much no profile, all he had published were a few short stories, and no-one knew who he was as a writer. By the time he won the Penguin Literary Prize in June 2021, the podcast had helped build a community of readers and writers who were excited to celebrate that achievement with him. And now there's an even larger community of people eagerly anticipating the publication of his debut novel, Denizen, in July this year.
I personally love the marketing aspects of being a writer. The reason I write is to connect with people, and that's what marketing is. It's saying, hey, here's a thing I've created, it's about these topics and it's similar to these other things – maybe you'd be interested in it. So my social media, author talks, and even creative writing workshops all have a marketing aspect to them – even if it's just a slide at the end of a workshop with my book covers on it.
What was the last book that made you cry? And laugh?
This Accident of Being Lost by First Nations Canadian author Leanne Betasamosake Simpson was unexpectedly funny. It's a collection of short stories and poems, and reveals the author's cutting sense of humour.
And the memoir Ten Thousand Aftershocks by debut author Michelle Tom was very affecting, as it deals with both the multifaceted abuse she experienced during childhood, and her survival of the 2021 Christchurch earthquake. Her interview was our most popular episode of last year.
Which book/s are you looking forward to in 2022?
So many! Fiona Robertson's debut short story collection If You're Happy, Ellis Gunn's debut memoir Rattled, Darryl Jones's Curlews on Vulture Street, and Katherine Tamiko Arguile's new book from Affirm Press. And, of course, the book I'm most excited for – Denizen, the award-winning debut novel from my podcast co-host, James McKenzie Watson.
Do you ever skip to the end of a book?
Every book! I read the last couple of pages so I can think about the connections the author is building across the story. The only books I don't do this for are crime/thriller novels, where I don't want to spoil any twists. 
Thanks for the heads-up, Ashley. A little note – don't skip to the end in Wildflower!
Website | Twitter | Instagram | Facebook | Podcast
You can listen to James and Ashley Stay at Home on Apple podcasts,Spotify, Stitcher, or your favourite podcast app.