IN THIS SERIES, I'M GOING BEHIND THE SCENES (OR, BEHIND THE PAGE) WITH PEOPLE WHO WORK IN THE BOOK INDUSTRY, WHETHER PROFESSIONALLY OR IN A VOLUNTEER CAPACITY. THIS WEEK, I'M CHATTING WITH AUTHOR ANNIE SEATON ABOUT MARKETING AND CO-FOUNDING THE AUSTRALIAN & NZ RURAL FICTION WEBSITE. GRAB A CUPPA AND HAVE A READ…
Hi Annie. What led to the creation of this website and associated Facebook group?
Darry Fraser and I were both members of a group that seemed a little exclusive and not reader-interactive.
Being an author in this current publishing environment requires constant marketing, so we thought if we created a co-operative group and donated our time and knowledge to create a Facebook group and website, it would benefit many authors and increase reader awareness.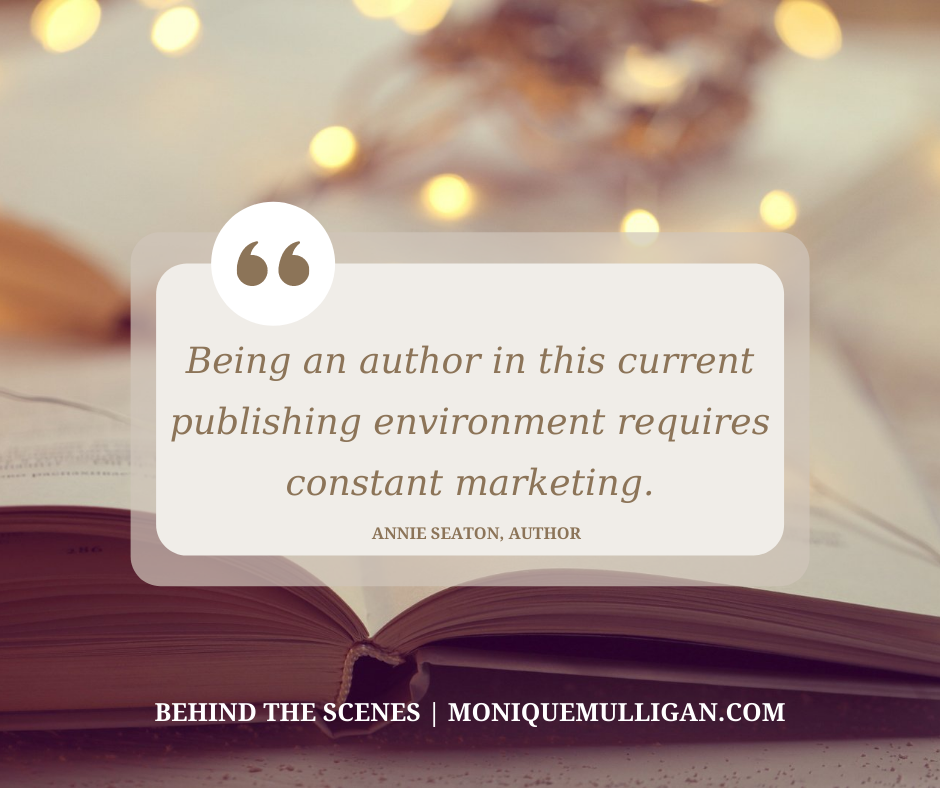 How does it benefit authors and readers of rural fiction? 
We share new author releases on the Facebook group and the website, and in the newsletter, and authors and readers are able to interact on the Facebook page.
How much support has it had from authors and readers? How do you get the word out?
The initiative has been a tremendous success. We now have over 100 Australian and New Zealand rural authors on the website (they have to apply and meet certain quality standards for inclusion) and we have over 3000 members in the author/reader Facebook group.
How much time do you and co-founder Darry Fraser dedicate to administration of the website and group?
I maintain the website, and Darry handles the communication with authors. We are both on the site every day, some days for a few hours. Approving member applications, running contests, checking that posts are appropriate and generally overseeing the dozens of posts that go up every day.
What do you like most about the Facebook group?
The interaction between readers and authors is fabulous. The group is now growing organically.
What are three qualities a successful Facebook book-related group needs to have?
1. Currency – i.e. be kept up to date
2. Quality
3. Integrity
Who looks after the newsletter?
I have just handed that over to Darry as the website maintenance has exploded!
Tell me more about your own books.
I've been writing for eleven years now, and I've lost count of how many I've written! I keep meaning to total them up, but there's never a spare minute in the day.
I am an Australian hybrid author; I self-publish plus I am with Harper Collins Australia, as well as still having five with a US digital publisher.
My books, especially my Porter Sisters series, have been popular with readers all over the world. Book 5 of that series, Larapinta will be out in March.
I write contemporary coastal and outback romance, romantic suspense, and historical romance as well time-travel stories.
Harper Collins have created a niche genre for me as an eco-adventure romance author.
As an author, how do you get the word out about your books? Do you enjoy the marketing aspect?
I love the marketing aspect and I market every day for several hours. Writing gets squeezed in at night!
Facebook is my social media of choice, and I have created and belong to many groups
I post daily, and I like to give readers a sense of who I am, so they get to know me – the beach walker, the gardener, the cat-lover, the cook, and the mum and nanny.  Interaction with readers through Facebook, occasionally Instagram, and a monthly newsletter is my main marketing strategy. I do very little, if any paid advertising.
What's the worst book marketing advice you can think of?
Do not say "BUY my book!"
What was the last book that made you cry? And laugh?
Any book by Kristan Higgins, and my own Marry in Haste.
Amy Andrews cover quote for Marry in Haste (one of my favourite books) said "a love affair that will make you laugh, cry and sigh."
Thank you for having me, Monique.
Thank you for chatting with me, Annie!
Social media links:
Annie Seaton, Facebook
Australia & NZ Rural Fiction Facebook group