Have you ever tried acting out a scene when you're stuck on a word, description, action, body placement or piece of dialogue?
Confession: I have.
It's easy to get bogged down trying to find the right way to word something, so acting out the part I'm struggling with is a big help.
For example, the other day I was writing a scene for The Bush Maiden in which my protagonist, Elsie Birch, walks in the Blue Mountains to a secret grotto pool. On the way, her friend Arthur shows her a sandstone marker, partially obscured by ferns, that marks the hidden turnoff. The marker is no lump of sandstone – instead, it's been carved into the face of the legendary Bush Maiden. Elsie reaches out to touch it and something happens. I needed to convey her shock at that moment, without saying simply writing "she was shocked".
But the words wouldn't come and I faffed around and faffed around some more until my gaze fell on this …
See the salt lamp?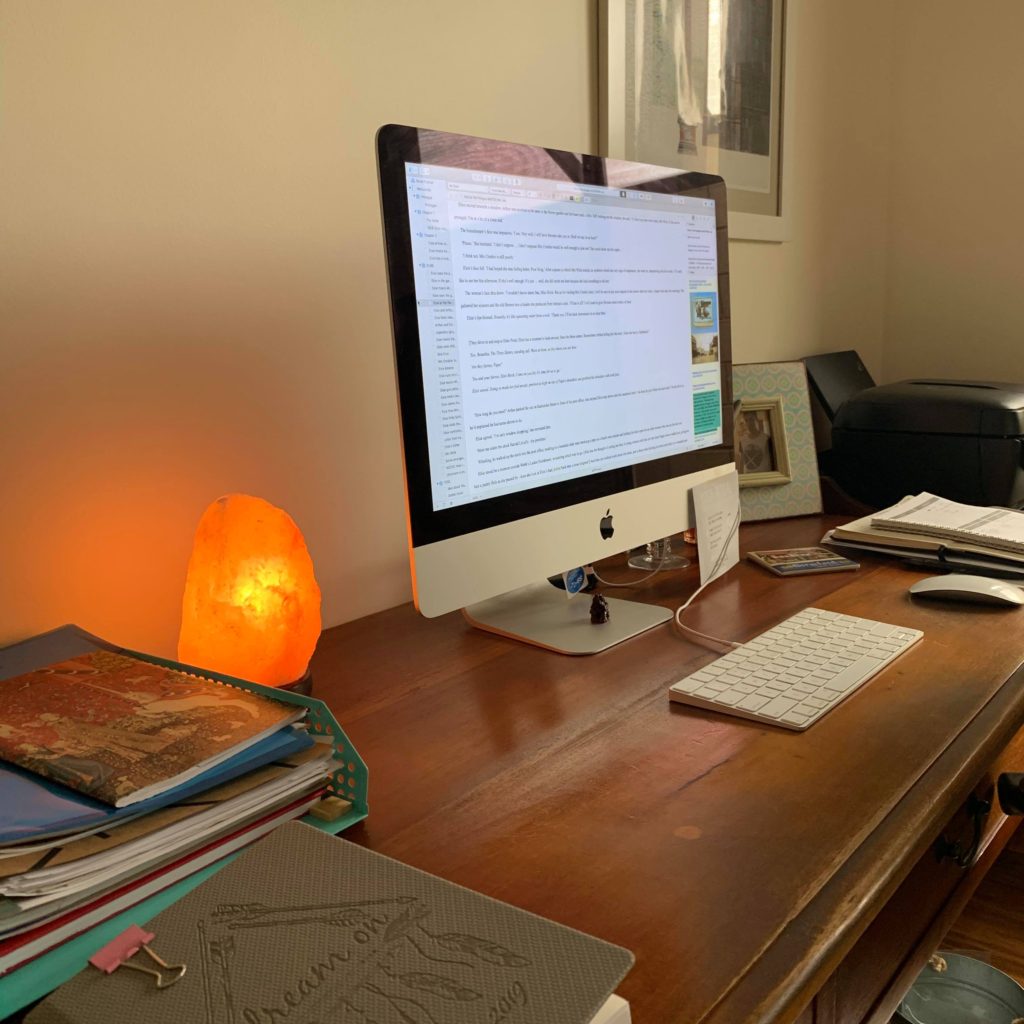 OK, the carved rock in my story looks nothing like that glowing salt lamp, but I knew straight away it would serve the purpose. The next thing you know, I'm pretending to be Elsie Birch back in 1929 and I'm reaching out to touch that carving tentatively …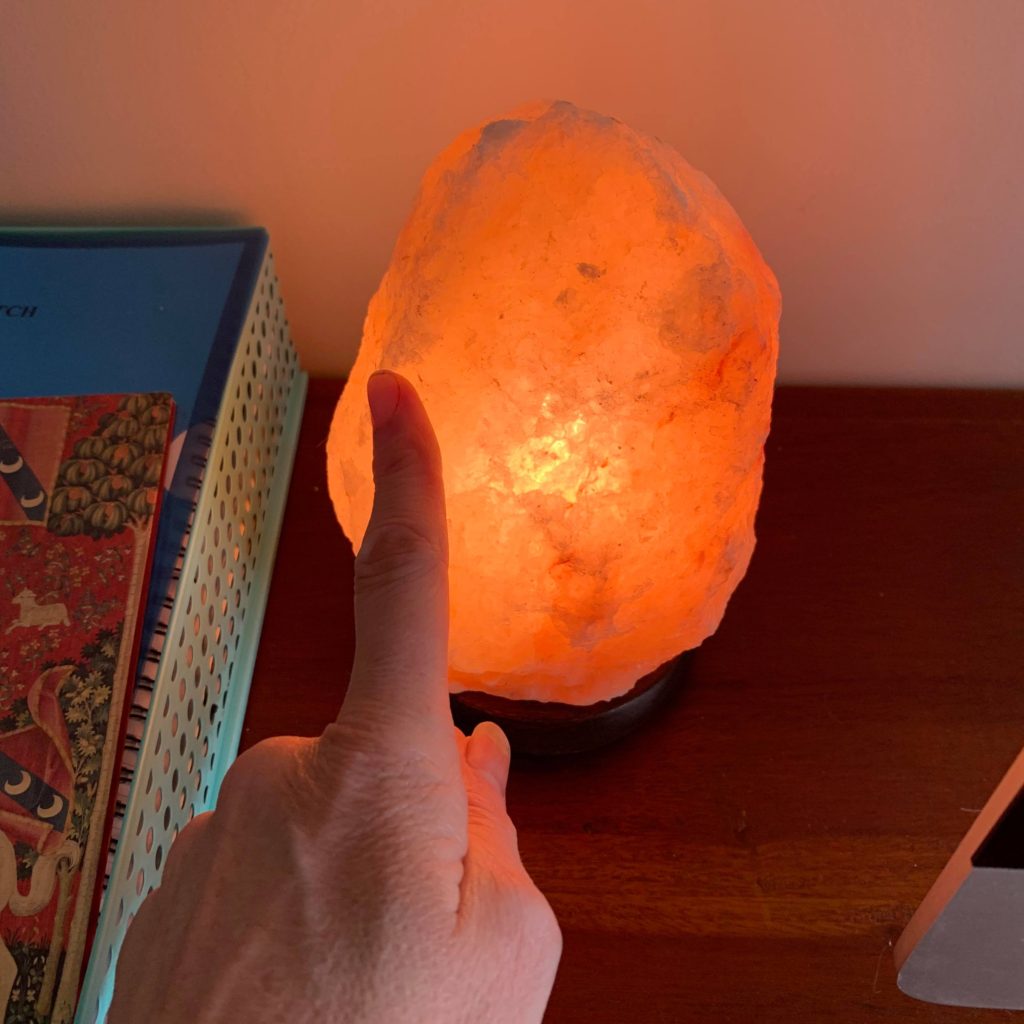 And after a few takes, I had Elsie's reaction down pat. Did I mention that I also listened to sounds of the Blue Mountains as I wrote the scene?
This is a simplistic example but you get the idea. By acting this moment out, I was able to take myself into the world of Elsie and be part of her adventure, while ensuring that her reactions were in character.
A little later, Elsie and Arthur have a moment where they nearly kiss. And while I didn't drag hubby in to play the role of Arthur, I did stand in my study (my stage), eyes closed, Blue Mountains sounds on loop, and part my lips, imagining that almost kiss by a fern-fringed grotto.
And here's the real confession: I truly thought I was the only weirdo writer who did this. At least, my family makes me think so when they catch me acting out various movements like the kiss one above. (Next time I'll shut the door.)
In reality, more writers do this than you might realise.
BRIAN: Look. You've got it all wrong. You don't need to follow me. You don't need to follow anybody! You've got to think for yourselves. You're all individuals!

FOLLOWERS: Yes, we're all individuals!

BRIAN: You're all different!

FOLLOWERS: Yes, we are all different!

DENNIS: I'm not.
Some writers read out their dialogue in full theatrical mode to make sure the dialogue is in character, while others act out scenes to help find the gaps.
Either way, acting-based writing can be a helpful practice. And if you take it further than, in my case Elsie reaching out for the rock carving, you might discover more actions or dialogue that move the scene along, adding depth and impact beyond your initial idea. That's exactly what happened to me, and a whole new layer opened up … simply by reaching out and touching that salt lamp.
It's all about embracing the scene, embracing empathy, embracing the moment, and bringing it all to life for the reader.
PS. Obviously, it's best not to act out certain scenes like murders. But you know that already.