[bctt tweet="When you've spent several years reviewing, there's something refreshing about reading for pleasure." username="MoniqueMulligan"]
My reading choices have been another mixed bag this month, ranging from fiction to non-fiction. I'm immersing myself more and more in the fairy tale and folklore genre, and wondering why it took me so long to re-discover something I always loved.
'Rising high up on the heather-covered moorlands, seeping through our bogs, flowing down our streams and into our rivers and out onto the sandy strands of the rock-strewn Atlantic seaboard, are the old Celtic myths and stories … waiting to be reclaimed and re-visioned for the modern world.'
If Women Rose Rooted by Sharon Blackie was recommended to me when I was in the UK earlier this year. Authentic, inspiring and heart-rooted, this memoir-myth fusion took me months to read, but that's because I wanted to savour it. I wanted to be open to the words I felt Sharon was writing just for me – there were so many "yes!" moments as I walked through the woods and forests and wastelands with her, growing more and more empowered and confident of my place in the world. When I read that Sharon had spent time working as a publisher, I felt this kinship, this connection, I couldn't explain to my husband. And yet, what I could explain was the sense of feeling rooted to a place, even when it's a place you haven't come from – he understood that, as it's something he feels strongly about too.
[bctt tweet="The retellings of Celtic myths featuring wise women resonated strongly with me" username="MoniqueMulligan"]
and linked cleverly to Sharon's own observations and thoughts, which are intelligent and soul-changing.
After reading this book, I reached out to Sharon and asked her if she wanted to write for Serenity Press. Guess what? She said "Okay!" I'll reveal more about that project over the next few months.
Illustrator Lorena Carrington recommended Fearless Girls, Wise Women & Beloved Sisters by Kathleen Ragan, and I've been thoroughly enjoying this collection of 100 fairy tales and folktales from around the world. Not all the heroines are rescuers or heroes in the sense that might be expected – some are heroines by way of their wit, or even their ordinariness. Some of the stories have made me laugh; others have made me think … and at least one has inspired me to write a retelling. Some I liked more than others … but isn't that always the way? I'm no expert in folklore, so rather than enter a debate on Ragan's interpretations at the end of each story, I've just enjoyed them as they are for now. If you're new to the genre, this is not a bad place to start … and then keep going.
I love the cover of this book … and inside does not disappoint. Crush, an anthology from MidnightSun Publishing, is a clever and diverse collection of stories showing people falling in love or lust, that pushes the romance genre out of the meet-cute, happy-ending boundaries.
[bctt tweet="The voices are fresh, the stories unique, and the overall result poignant. @LynneTashi" username="MoniqueMulligan"]
From subtle to in-your-face, each of the stories shows that love has no limits – and neither does writing. Among the standouts were 'Small World' by Rebecca Handler and 'The Horses' by Rowena Edwards. If you like stories exploring the notion of, and feelings of, love, this collection is worth a look, and co-editor Simone Corletto's guest post on diversity in romance is also worth a read.
Crush is published by MidnightSun Publishing and is available in print and e-book on the MidnightSun Publishing website, as well as at all good bookshops. Click here to buy.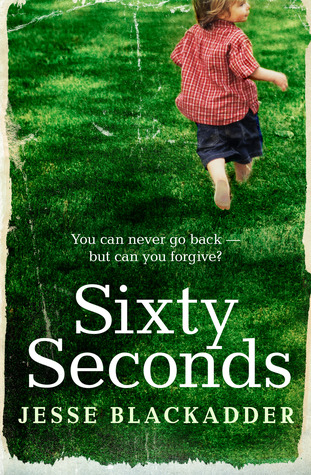 [bctt tweet="A sea change turns into a tsunami of grief in Sixty Seconds by Jesse Blackadder." username="MoniqueMulligan"]
This is a novel that will strike at the heart of parents, hitting us where it hurts: our responsibility for our child. Jesse explores the emotional fallout of a toddler drowning through the eyes of three characters: mother, father and teenage son. Compounding their loss and relentless guilt are existing feelings about sexuality, appearance, work, family isolation, ageing parents, attraction to others, and more. It's complicated, intense and evocative – and written with words underscored by authenticity. A great book, from start to finish.
That's it for this month!