This guest post is courtesy of Simone Corletto, an Adelaide-based YA and Science-Fiction writer, and social media hack. Her first co-edited anthology, Crush, was published by MidnightSun Publishing this year. She spends her spare time crocheting lumpy hats, writing about teenage superheroes, and telling people about her science degree.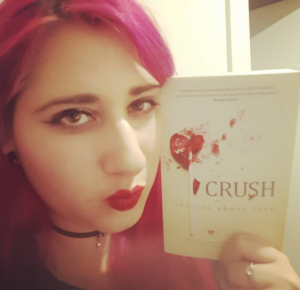 Growing up, I always loved fantasy stories. I loved the action and adventure and dragons and kickass women taking charge of their own destinies and winning the hearts of the prince. I saw the books my mother preferred, the pastel-covered romance affairs which may or may not also include a murder that needs to be solved, and scoffed. I never liked romance. Or so I thought.
I actually really did like romance. I just didn't like reading about adult romance, in contemporary settings that had a distinct lack of dragons. But ultimately, the books I was reading and those my mother enjoy aren't all that different, when you brush away the set dressing and plot. Both our books were about characters, falling in and/or out of love, forming friendships, being betrayed, going through the whole emotional rollercoaster that is human relationships.
These days I have read and enjoyed stories of contemporary romance (although I still prefer romances built within a backdrop of civil war and overthrowing tyrannical governments). But one thing I noticed in my expanding of my reading list into wider genres is that these stories, especially the popular ones in the mainstream, still lack of diversity.
The fiction world right now is going through a bit of an overhaul. With a significant chunk of publishing coming from white, middle-class writers, the kinds of protagonists who are depicted has been invariably homogenous. Work written by or about queer or ethnic minorities was often considered fringe or "special interest", rarely making its way into best-seller lists or to prominent reviewers. This is true across nearly every genre, and romance is no exception. Romance is, unlike many other genres, a field dominated by female writers. And while this fact may have been a reason for its exclusion from prominence within Literary canon, aside from a rare few greats such as Jane Austen and the Bronte sisters, this genre has remained an area where women have been free to write about and explore sex and relationships and adventure, during a time where this may have been restricted in real life.
But in the past few years there has been an increased attempt to bring these previously marginalised voices and stories into the mainstream. With already a strong female and feminist representation in the romance genre, the push for diversity has been even more important for queer and culturally diverse representation. And this was something we had in mind when putting together our collection of romance stories for Crush, a just-launched anthology with MidnightSun Publishing.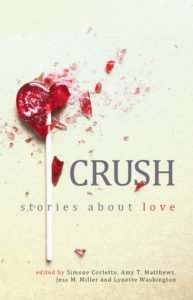 In the callout for submissions, we only specified that romance be part of the story; we didn't restrict it to any genre or relationship dynamic. And as such, we received a wide variety of submissions. We had stories of first loves, of unrequited love, of bad dates and break-ups and reading far too much into a situation. Because romance in real life isn't limited to the stock standard stereotype of marrying the tall dark stranger and being together happily ever after. And it shouldn't always be like that in fiction either.
We were also very excited to see the number of stories that fell outside of the heteronormative spectrum, or that reflected non-western cultures and traditions. Representation matters, not just for readers to see themselves reflected in the story, but to also normalise these relationships in the public eye, for readers who don't necessarily identify in this way.
We all experience romance in different ways, and while it's impossible to depict every iteration that exists, in creating an anthology we were at least given the opportunity to publish many different voices to give many different perspectives. And while there aren't any dragons, even younger me would find something in here to enjoy.
'Crush is published by MidnightSun Publishing and is available in print and e-book on the MidnightSun Publishing website, as well as at all good bookshops.' Click here to buy.