My reading mix has been somewhat eclectic this month. But then, when isn't it? I've read far more books than I can mention here, so I've chosen to share my thoughts on the ones that have resonated the most.
As a long-time fan of Kate Forsyth, I was thrilled to received an ARC of her upcoming novel, Beauty in Thorns. This passionate and compassionate reimagining of the Sleeping Beauty fairy tale is centred on the Pre-Raphaelite artists and poets in England, and sweeps readers up into their lives, loves, losses, desires and dreams. Kate's trademark voice shines through – her gift for conveying rich historical detail without losing pace is ever present. I found myself drawn into characters' beings, feeling compassion for their choices and circumstances, and wishing I could stay with them a little longer at the end. The many moments of awakening scattered throughout are bittersweet, hopeful and heartbreaking by turn. Beauty in Thorns is another gift of storytelling from Kate Forsyth that in me, awakened my love of fairy tale, history and art.
I found The Lady and the Unicorn by Tracy Chevalier in an op shop recently – I was drawn to the cover as much as my appreciation for the author's other works. This gorgeous novel also uses art as its basis – the tapestry series called The Lady and Unicorn. Bursting with passion and desire, for art as much as lovers, it's a brilliant read about the making of the tapestry from different characters' perspectives. The lives of women at the time are depicted with integrity and authenticity – each of them copes with the patriarchal society and their own dreams and desires in a different way. I thoroughly enjoyed this.
Reader, I Married Him (edited by Tracy Chevalier) includes twenty-one stories inspired by Jane Eyre. Themes of love, compromise and perseverance abound in this anthology – it's a mixed bag of stories, some taking the famous line on some rather creative and unexpected tangents. Some stories resonated with me stronger than others, but all made me want to read Jane Eyre for the umpteenth time.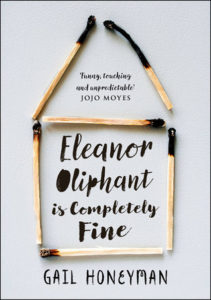 Eleanor Oliphant is Completely Fine by Gail Honeyman warmed my heart with its touching and unusual story about a woman who's not really fine at all. Both uplifting and funny, this book had me smiling, laughing out loud, and hoping with all my heart that Eleanor would be fine after all. It's one of those books where you really come to feel for the lead character – I love books like that. She's socially awkward and has no filter, but she really grows on you and by the end you feel as if you have a new and wonderful friend. If you liked The Rosie Project by Graeme Simsion, you will like this too. RRP $29.99 (HarperCollins).
Dear Banjo by Sasha Wasley caught me surprise – I knew it was a rural romance, but what I didn't know was a) how good a writer Sasha would turn out to be, and b) how much I'd love the book. She delivered all the feels wrapped in an evocative outback setting, with plenty of authenticity, believable conflict and 'I want to shake that character' moments. It also provides plenty of insight into different and ethical farming practices, but rather than coming across preachy, simply offers a new way of looking at things. Her characters were flawed but resonating, with Tom proving especially swoon-worthy in his long-suffering but steadfast way. Sasha, I'm waiting for more from you – your writing is ace! (RRP$29.99, Penguin)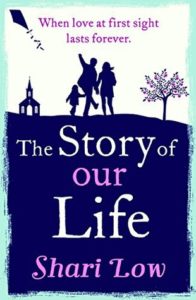 Lastly, I read The Story of Our Life by Shari Low, which is the tissue-soaking book of this bunch. Expect to cry (or at least pull a sad face) as married couple Shauna and Colm encounter a life-changing situation that tests their marriage, love and boundaries. Flashbacks show the journey the couple makes until this pivotal moment, including their love-at-first-sight romance, fertility problems and money issues. In the present-day, the couple tries to make sense of sentence they've been handed. It's romantic, moving, emotive … and has all the elements for movie in the fashion of The Notebook.  Yes, it's a tearjerker, but it's also well-crafted and flows the past and present into a neat and compelling story. This edition has the tagline 'When love at first sight lasts forever' which is a much better fit than one on another edition, which hints more at adultery. Yes, that happens. But it's the love story that is at the heart of this book. It won me over. (RRP $29.99, Harper Collins)
What about you? What have you been reading?