[bctt tweet="Growing up, we never said the F-word at our house. The four-letter one." username="writenote1″] No, not that one (but we didn't say that either). I mean the one that rhymes with smart.
We said FLUFF. Or "poops" (Blue Eyes thought that was hilarious the first time I said it). Or "pop off", as in "You popped off!"
And if we smelt one of those ghastly things, we said "SAFE!" faster than you can blink an eyelid. It was never good being the last one to say "Safe" because that meant you did it, by default.
Even in my 20s, when I was blessed with two boys, it took years to be comfortable saying that F word. And then I read my boys Babette Cole's Dr Dog and William Kotzwinkle's Walter the Farting Dog and they loved the part where the F word was used. Loved it! So, I got brave, and read Dr Dog to a class of Year 2s, and they loved the part where the F word was used. Me, on the other hand, I was freaking out because a board member walked in right when I got to that bit and I thought, 'I've done it now. They'll never ask me to read at school again.'
The board member called me aside after the lesson. I was trembling in my shoes, ready for a right dressing down about using the F word at a Christian school.
She said: 'Monique, I just LOVED that book. I love books with farts in them and the kids do too! I'm going to buy that book for my kids.' Then she recommended a book called Good Families Don't by Robert Munsch (it's about a family where the parents say 'good families' don't have farts). You see I'm using that word now?
And I knew I was on to something. I would write a book about farts. Well, not farts as such, but about something that farts. That was when Fergus the Farting Dragon was born.
Life intervened. It was a good 10 years before Fergus was dusted off … and reborn as a picture book. In a few weeks, the book I started writing for my sons will be published.
Remember I said we never said the F word growing up. Well, that's changed. In my house, everyone says that word: 'Did you fart just (just before I walked in the room)?' is a not uncommon question in a house of mostly males. And I'm quite comfortable using the fart-word, even though I never actually do them myself.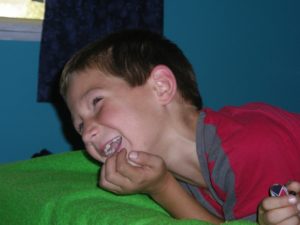 Take for example these deadly serious 'fartwork' exchanges between my illustrator Veronica Rooke and myself:
'Maybe bring Fergus into p12 – his bumhole (can't believe I am typing this) looks more like a trumpet…'
'I'd like to see a mischievous or self-satisfied or straining face on Fergus. Let's have an explosion of colour and farty clouds!'
'Maybe a bit more fartiness?'
'You can see I felt liberated after typing bumhole …'

'Also, analysing your text, the emphasis is on Fergus's fart & its effects. We have a detailed pic of him farting in the previous spread.'

'Do you prefer your farts exploding or bursting? He he. Betcha you never imagined publishing taking you to this level?'

'a mammoth explodo fart…'
'Can you make the 'gas-rumble' and 'fart-blast' words stand out more?'
'At the moment, the (fart) blast isn't WOW enough.'
Now that the book is finished, we're turning our minds to some rather creative activities for school presentations. Watch this space! Clean suggestions are welcome.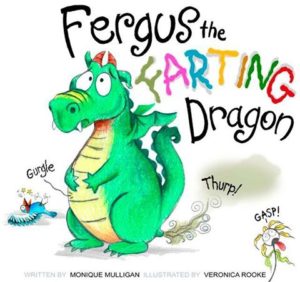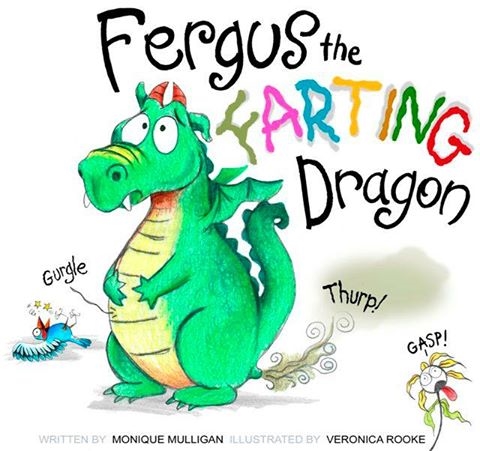 So, the woman who was embarrassed to say fart has gone from saying 'fluff' to good old 'fart' (and writing about them) without a qualm.
Fergus the Farting Dragon is available for pre-order now. If you'd like to order one or more than one – for your kids, grandkids, schools, the kids next door, the friend of a friend's kids, or just because you're celebrating my language liberation, I'd be explosively happy 
! In a good way. 
[maxbutton id="1″]