When you're recognised as a book reviewer, reading can sometimes feel like an obligation. It's not the nicest feeling for someone who loves reading, so whenever that happens I pull back, visit the library, and read books I've been wanting to read but haven't gotten around to yet. (I've also been scaling back on reviews steadily because I need the review-writing time for novel writing).
So, what have I been reading?
Spurred on by the recent TV-series trailer, I bought Margaret Attwood's The Handmaid's Tale and quickly found myself drawn into a thought-provoking albeit chilling dystopian tale where women are regarded as chattel and freedom is a distant memory. Gosh, did that lead to some interesting discussions over coffee when I'd finished.
A Man Called Ove by Fredrik Backman made me laugh out loud (it also made Blue Eyes do the same and he's a tough critic), and I ended up buying another copy for my Dad. The characterisation of Ove as a grumpy old man with a big heart is fantastic.
I picked up The Faerie Thorn and Other Stories by Jane Talbot (Blackstaff Press) while visiting Giant's Causeway in Northern Ireland and from the moment I started reading, I was spellbound. The language is bewitching-brave; the stories dark, bizarre and enchanting. I read one story a night over a week, determined to savour a book that reminded me why fairy tales have always had my reader's heart.
I'm halfway through Sharon Blackie's If Women Rose Rooted, which is turning out to be a book that awakens, nurtures and challenges. I think I'll be reading it more than once to get the most out of it.
Oh, and then there was The Food of Love by Antony Capella. I was recommended this by a friend at the writers' retreat in Ireland, after she became aware of my love for cooking and fiction that includes cooking. She said I'd love it and she was right. Food, Italy and love … what more could I ask for? For those with a soft spot for Italy and Italian food, t's a lip-smacking sensual feast of a book.
Even with all these books, I have managed to read some of the books on my review shelf over the past few weeks.
Karen Swan's The Rome Affair also ticked a few boxes – Italy, love, mystery … While it's nothing ground-breaking in terms of plot, it was just right for a time when I was feeling a bit overwhelmed with doing. A story of forbidden love and secrets that go to the grave, it's a romantic and satisfying read.   
In contrast, Margherita's Recipes for Love by Elisabetta Flumeri & Gabriella Giacometti ticked many boxes when I read the cover blurb, but ultimately served up an average read. The story was let down by the telling – at times it felt awkward and like it was trying to hard – and the chemistry between Margherita and Nicola just didn't materialise for me. I think the love scene, where Nicola "immersed" himself, did that.
Lastly, A Simple Favour by Darcy Bell had hints of Gone Girl with its missing wife, domestic noir premise. This tale of revenge, betrayal and some-not-very-nice people kept me turning pages into the wee hours, despite figuring out a few things early on, and I'd recommend it for fans of domestic thrillers.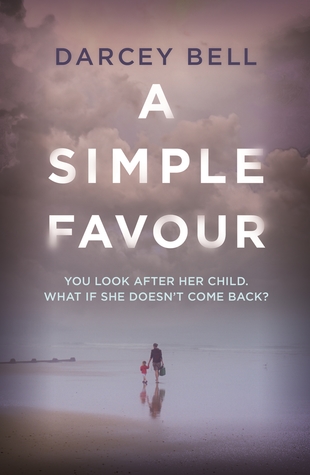 That's me – what have you been reading?