Steve Heron OAM has a passion to power hope in children especially through children's literature. His love of picture books is shown by his extensive collection. He craves to write quality picture books and novels that engage children, at the same time assist them with things life can throw at them. He aspires to keep it real and unreal for kids in his books.
Steve is the founder of Nurture Works Foundation and developed the acclaimed 'BUZ – Build Up Zone' social and emotional programs and initiatives used in many schools throughout WA. He recently retired from 40 years of pastoral work with children to focus on his writing. Maximus is his first middle grade novel. Visit steveheron.com 
I've had the pleasure of working with Steve for about a year on Maximus (as his editor and publisher). For me, it's been wonderful watching Steve's story turn into gold. You can buy Maximus here.
Monique: Your first children's novel, Maximus, has just been released. Can you tell readers a bit about it?
Sometimes you need a special friend to give you wings…
Steve: Eleven-year-old Mitch is a regular kid who argues about cleaning his room, thinks his younger sister is a pain and enjoys hanging out with his friends. But he's finding life tough going. For one thing, he's being picked on by Jason, both in class and on the football field, and he feels like the spirited Maddy is his only true friend. Even worse, his Fly-in, Fly-Out dad has become increasingly distant and angry, and Mitch misses their father-son time. In Mitch's eyes, 'stuff sucks'! An encounter with a bedraggled magpie he names Maximus gives Mitch something to look forward to when he's at home. As their connection grows, so too do other relationships in Mitch's life, as his self-confidence grows, he starts to stand up for himself, and the reason for his dad's moodiness is revealed.
Maximus is an engaging, warm-hearted story about family, friendships, self-confidence, and reconciliation, with the gentle message that life is like riding a wave.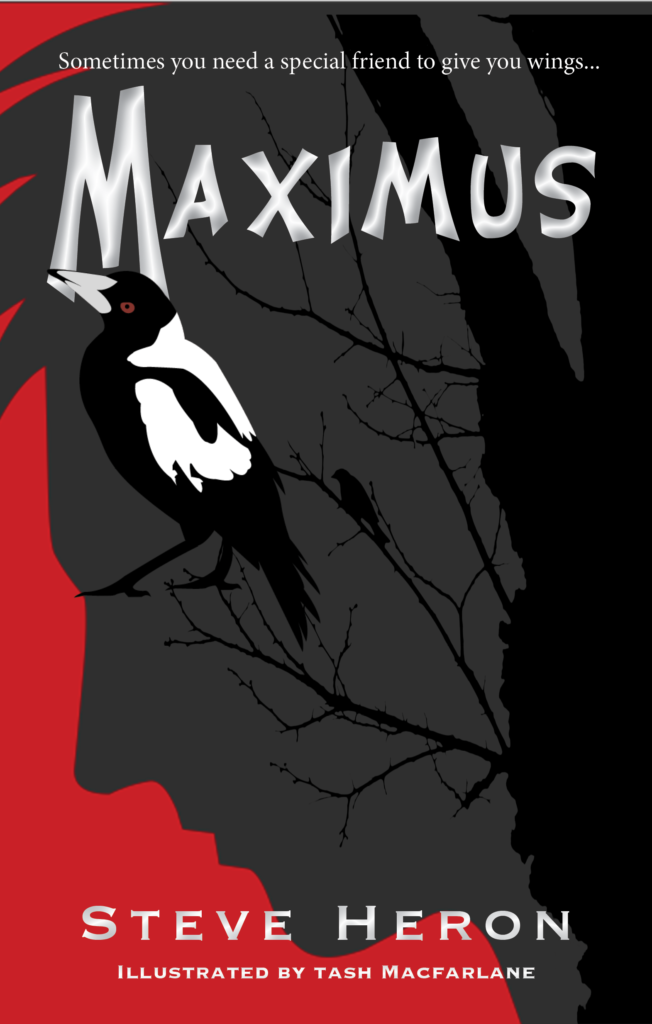 Monique: How did the Maximus story come about?
Steve: A personal encounter with a magpie I named Maximus was the spark that ignited the inspiration for me to write the story. The chance meeting with this bedraggled bunch of black-and-white feathers was analogous to the pastoral work I was involved in with children in and out of schools. Maximus had been rejected by the flock and was flailing like many kids I came across with friendship and family issues. It's tough for a kid when they lose their mojo. Years of working with exceptionally ordinary children struggling with life's assortment of challenges, the compelling urge to tell their stories respectfully and anonymously, and the connection with the magpie bolstered my desire to write Maximus.
Monique: Was there a particular inspiration for Mitch, the character? And Maximus?
Steve: Mitch is a blend of the myriad of boys I have met over the years. I do remember one occasion where one of these boys was having a tough time in his class. I was conducting a lesson on friendships, bullying, and resilience and noticed that a lot of the kids were picking on him. He lost his cool, a pile of expletives spewed out of his mouth, and he stormed out of the classroom. After while I went outside and asked if he wanted to talk. More expletives … no real answer. My reply, 'You know I'm around if you ever need someone to talk to.' It wasn't until at least six months later he approached me, and said 'Remember you said that I can come and talk if I want.' At our meeting, I remember the first words that came out of his mouth. 'There's some pretty negative stuff in my life, and I have decided to turn my negatives into positives.' Powerful, to say the least. Maybe some of the program did rub off on him. While Mitch's character is not based on him, there is a degree of inspiration.
Monique: What do you like most about Mitch, the character? What can he teach young people?
Steve: He is a strikingly regular kid with no superpowers. He is a blend of the many extra-ordinary kids I have met over the years. You gotta like him. He is so real, so candid, and so typical that he is atypical. He can teach kids that stuff that sucks usually isn't permanent, particularly if you can find hope.
Monique: What do you hope children will get from this story?
Steve: Stuff happens – to everyone. Hope is what pulls us through the sucky bits, and there is always hope. The story strikes at the heart of everyday issues that many pre-teens experience and will hopefully help children realise that grief and other life challenges affect their emotions, and in turn, those emotions affect their self-confidence and social connection. When you're down you lose power, when you lose power, you become vulnerable. Balancing the power when you think someone is not treating you with respect is essential. Maximus is a story about balancing the power and encouraging hope. Life is like riding a wave – when you catch a good one enjoy the ride.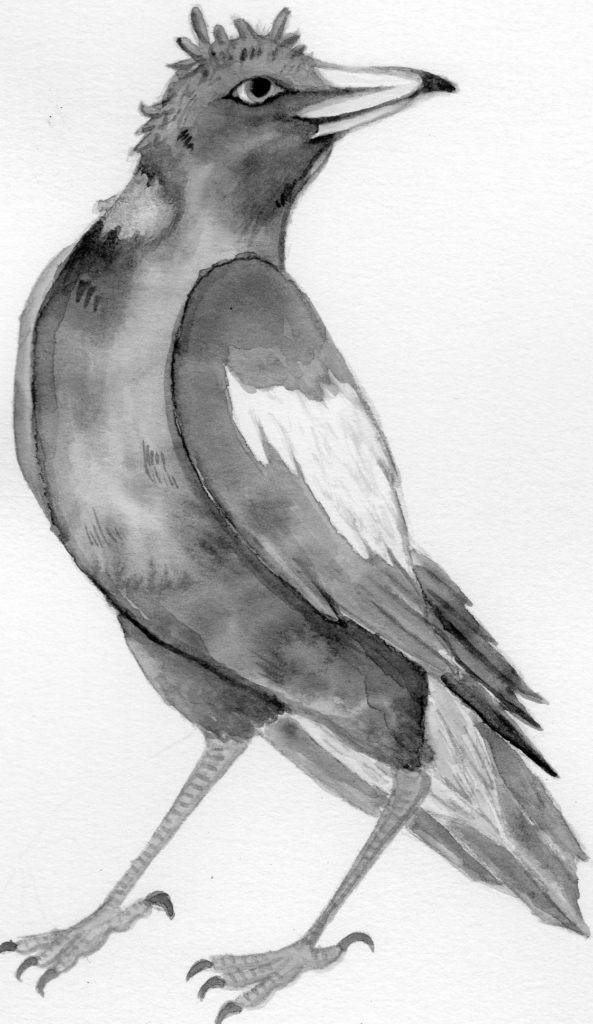 Monique: What do you think is the best way of encouraging children to read?
Steve: Hmmm.
Give kids books, read to them, read with them, give them bookshop vouchers.
Sell books at movie theatres. Maybe movie/book/popcorn combo!
Make sure the stories are easy to read but challenging enough to make it an adventure.
Keep libraries open – make them kid-friendly.
Feature the children's section in bookshops (not hidden down the back)
Pay kids' authors more and make them seem like heroes to kids. Maybe a set of collector cards with pictures of kid's authors.
Monique: What made you decide to write for children rather than adults?
Steve: I have spent 40 years of my life working with children – it's what I know. I have also written for adults about children)
Monique: Tell me about your road to publication. What are some of the highlights and lowlights?
Steve: After finishing Maximus (so I thought) I sent it off to an editor – I had more work to do. I had a chance encounter with a publisher at a SCBWI conference in Sydney in the foyer of the Hughenden Hotel. She introduced herself and ask me who I was and what I was working on. I told her that I was working on a realistic fiction novel for middle graders. I then asked her if there was a market for that genre. She told me there certainly was. I asked if I could send her my manuscript. She said yes.
After finishing Maximus properly (so I thought) I sent it off. And waited, and waited, and waited. Finally, I contacted the publisher saying that I wanted to enter Maximus into a writing competition and that to do so it was not meant to be currently submitted to any publisher. I asked if they had considered publishing it, and if not, I would like to withdraw and enter the competition. No publishing contract … and no result in the comp. I then sent Maximus to another publisher. Waiting … Again … Rejection.
I applied for a pitch session at a writer's convention and somehow accidentally registered my interest in pitching a 'Romance novel' … oops … I contacted the organisers who got back to me and said that the publisher was also interested in middle-grade novels and I could still pitch.
I think the pitch went well. The two amazing ladies behind the desk said they were interested in what I was writing, and it would fit with their values. They used the word serendipitous and asked if I could send them the whole manuscript. I had it in my bag, so I presented it on the table. About a month later I was offered a publishing contract. You little beauty, with Serenity Press (Karen Mc Dermott and Monique Milligan). More editing, more editing, more editing, more editing … I believe this has made me a better writer.
Monique: What were your favourite books as a child?
Steve: I can remember a Little Golden Book called Tootle about a cute little train and I had a set of Charlie Brown books (I still have them) – I liked them all especially when Charlie Brown went to camp and Snoopy in It's The Great Pumpkin, Charlie Brown. I also loved The Cat in The Hat.
My favourite children's book now is The Sea Thing Child by Russel Hoban.
Monique: Do children ever give you writing advice?
Steve: Generally, when I ask for it. Kids are usually so well-mannered they don't tell me up front. 
Monique: How has your past career benefited your writing?
My career has been more in pastoral care and social and emotional wellbeing. I have heard the real stories of many children. I worked out that I had listened to around 15,000 hours of children talking to me about stuff that goes on in their lives. Some of that is sure to not just stick, but inspire. I have always used children books in my work with kids and have seen great opportunity for children to relate to the characters and their experiences.
Monique: Describe yourself as a writer in three words.
Steve: Hopeful, honest, amusing
Monique: How do you start a book?
Steve: I remember reading Freak the Mighty by Rodman Philbrick, on the last page Max (Interesting that the main character has a similar name) opens the empty book given to him by Kevin (The Freak): 'You haven't got a brain, and that is the unvanquished truth,' he said.
So I wrote that down, I wrote the whole unvanquished truth. So, my answer to starting a book is to write down something that is in you, something unvanquished and don't stop. The rest will come.
Every word is part of a picture, every sentence is a picture. All you have to do is link them together.
Monique: What do you do when you're having doubts about your writing? What happens when you get stuck?
Steve: I get up, dust myself off, have some chocolate and get back in there with my sleeves rolled up. It's like riding a wave, when you are on a good one, enjoy the ride. If you get dumped, get back on your board and paddle back out waiting for the next wave.
Monique: What has writing taught you about resilience?
Steve: Other than learning to be patient, I'm not sure writing has taught me much about resilience, I think I learnt that from listening to the resilience stories of hundreds of children. If the question was, 'What has resilience taught me about writing?' Then I have an answer for that. You need resilience when writing- there will be setback after setback, stuckness, rejection, self-doubt, fear of failure … all things that can erode your confidence, but resilience will get you back on the board.
The key to resilience is in of my favourite saying by Viktor Frankl – 'Suffering ceases to be suffering the moment you find meaning in it.'
Monique: When you write, what is your biggest weakness?
Steve: Not believing that I am good enough. I wish I paid more attention in English at school because my grammar needs a lot of work.
Monique: What's the biggest myth about being a writer?
Steve: If pressed, I would say I don't ascribe to any myths because I am a realist when it comes to being an author. When I googled 'Myths about being a writer" – they were not my list of myths – I know the harsh realities, yet I still pursue writing.
Monique: Which book are you reading now?
Steve: Max the Mighty (Sequel to Freak the Mighty) by Rodman Philbrick.
Monique: Which authors/books do you admire the most?
Steve: Authors – Russell Hoban, Rodman Philbrick, C.S. Lewis. Books – The Sea Thing Child (Russell Hoban), Freak the Mighty (Rodman Philbrick), Narnia Chronicles (C.S. Lewis), The Recess Queen (Alexis O'Neil), Mum and Dad Glue (Kes Gray), King of the Playground (Phyllis Reynolds Naylor).
Monique: Which "must-read" book have you not read?
Steve: Max the Mighty (Sequel to Freak the Mighty) by Rodman Philbrick.
I love this quote from Rodman Philbrick.
"Matter of fact, I watch tons of tube, but I also read tons of books so I can figure out what's true and what's fake, which isn't always easy. Books are like truth serum–if you don't read, you can't figure out what's real."