My reading has been eclectic this month, with no one genre standing out … here are my favourites.
Last year I discovered Sharon Blackie's If Women Rose Rooted and deeply resonated with her intelligent, eco-feminist take on the world – one in which women are encouraged to connect more deeply with their landscape in order to find meaning and belonging. I'm listening to this book on audio book at the moment and finding even more to connect with. In her upcoming book The Enchanted Life, Sharon develops her case further, offering practical suggestions for living "a more authentic, harmonious and connected lifestyle". Once again, this book struck a chord deep inside. It's inspiring, yes, but so much more than that – it's empowering. Readers are encouraged to take action to live a life that is enchanted – filled with creativity and play and meaning and belonging. For me, it's exactly the kind of book that my soul is searching for – one that digs deep, prods and turns over the self-limiting beliefs that hold me back.
Complex, intelligent and thought-provoking, this is for seekers of authenticity and purpose.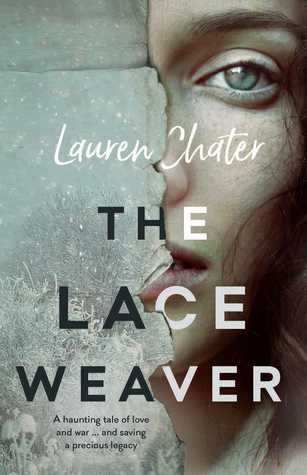 I first came across Lauren Chater through her cookie-themed book reviews at The Well Read Cookie and started following her writing journey. I was mildly envious when she went on a research trip to Estonia, excited when I heard that her historical novel The Lace Weaver was accepted for publication, and thrilled when I received a copy for review. A moving and evocative tale of war and woe, love and betrayal, fighting for rights and acceptance of the status quo, loss and hope, it's set in Estonia during WWII. The stories of two young women are deftly woven together, creating a rich, layered and memorable tale. There's heart-breaking conflict and heart-warming hope – and for me, that's a winning combo.
I can't go past a good domestic thriller and when The Wife by Alafair Burke turned up in my mailbox, I read every chance I had over the next two days. It's like the married version of a whodunit with an underlying back beat of "Stand By Your Man" and I lapped it up from start to finish. It's sneaky, twisty and suspenseful in a shout-at-the-narrator kind of way ("What the heck are you doing?"); told in first person, the narrator was the titular wife, and while her husband's secrets spilled out in a hot mess, she did whatever she could to protect hers, even when that meant standing by her man no matter what. If psychological thrillers are your thing, keep an eye out for this new release.
I've been a Jenn J McLeod fan since her first book came out back in 2013 and later this year I'll have the pleasure of meeting her in person at the Serenity Press retreat I'm co-hosting (and I'll be interviewing her on stage at Stories on Stage). A Place to Remember is her fifth book and it's a return to the lost love theme she does so well, with star-crossed lovers torn apart by meddling parents, self-doubt, and life-changing circumstances. Throughout, there are subtle questions – can the spark of lost love ever be rekindled (and stay alight), or should the past stay in the past? The layered story reveals itself slowly, as if a curtain was being drawn back on a window, allowing the reader to peek in for a closer look and feel more deeply for the characters as they battle questions of age and circumstance as much as dilemmas of the heart. An enjoyable read that shows Jenn has not lost her spark!
I've also read The Road by Cormac McCarthy (exquisite language) and a whole bunch of Hans Christian Anderson fairy tales.
Which book would you choose as your next read? What draws you to that one?