Woohoo! I finished my rewrite of Wherever You Go this morning and I'm celebrating by sharing with you the playlist that has kept me going through the past few months.
A playlist for a book? Is that a thing?
It is for me. Think of it as a book soundtrack, not so different to a movie soundtrack. Besides, books and music have one big thing in common – they both tell a story, so why can't they go together?
I know some writers who use music and playlists to help them craft their novel, such as Sarah J Maas:
"Before I type the first word, I'll begin a playlist for a project, and add songs to it as they inspire scenes or characters or big moments in the order of how they'll appear in the novel. And once I begin writing the novel, I'll add songs as they inspire almost every word. When I finish that first draft, I'm left with what is basically a musical outline of my book."
Unlike Sarah, I don't use music to outline a book. Instead, I use music for three main purposes:
To create ambience: Often when I'm writing I play meditative instrumental music in the background, like this one on YouTube. My mood determines what I want to hear (sometimes it's no music at all and sometimes it's there to drown out other ambient noise such as barking dogs, happy children, and hungry cats).
To help set a scene: Working from home and writing a scene set in a café? There are soundtracks out there to help with that, like this one on YouTube. While writing some of the travel-themed feast scenes in Wherever You Go, I played instrumental music reflecting the cuisine I was writing about. It did get interesting when I was writing about a Vietnamese feast!
To get into character: When I'm trying to channel deep emotions, such as depressions or grief, I often find that songs (with lyrics) help me get deep into the character's point of view. Sometimes, I can listen to the song while I'm writing (while writing one scene I played "The Sound of Silence" by Disturbed over and over and I found myself immersed in the character's pain). Other times, it's more helpful to stop typing and listen to the lyrics, or the mood of the music.
Many of the songs I listen to go into a "novel playlist", which evolves as I'm writing and reflects my characters' journeys. And at the end, I shuffle the songs, and voila! I have a soundtrack designed to underscore the emotional elements of my story.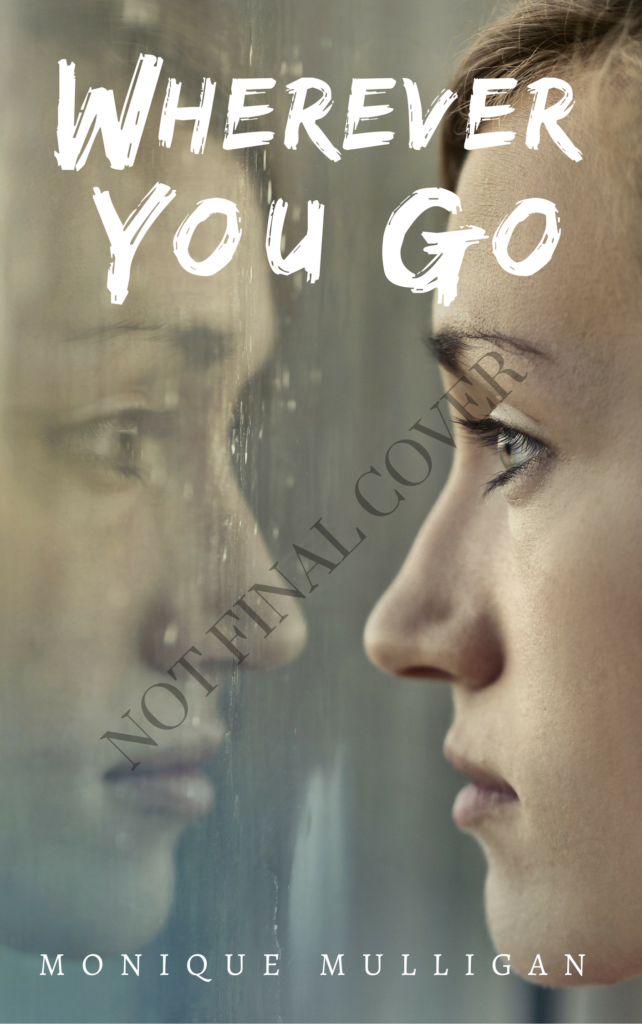 Wherever You Go is a story of grief and loss, of a marriage on the edge, of a couple trying to make a fresh start. Each song in my playlist relates to a mood or moment in the book; some, like "Resolution" by Matt Corby and "The Sound of Silence" are directly mentioned by a character; others I hope, bring out the nuances within the story.
My hope is that when Wherever You Go is published (it will be, one way or another), future readers will connect with this playlist either before, after or during the reading experience. 
In the meantime, it's a glimpse into the world of my story, and perhaps, if you check it out, you will discover new musicians, new songs, or new sounds.
Wherever You Go playlist:
"Big Jet Plane" – Angus & Julia Stone
"This Town" – Kygo feat. Sasha Sloan
"Unwell" – Matchbox Twenty
"Mad World" – Jasmine Thompson version
"Song of the Caged Bird" – Lindsey Stirling
"I Want to Break Free" – Queen
"Resolution" – Matt Corby
"The Sound of Silence" – Disturbed (I chose this version specifically for its darkly emotive feel)
"Bohemian Rhapsody" – Queen
"Shadows" – Lindsey Stirling
"Lithium" – Evanescence
"Angel" – Sarah McLachlan
"Better Days" – Pete Murray
"I'm Only Human After All" – John "The Ragin Cajun" Jones
"Save Myself" – Ed Sheeran
"Say Something" – Christina Aguilera
"Try" – P!nk
"Little Talks" – Of Monsters and Men
"Just Give Me a Reason" – P!nk, Nate Ruess
"Breathe Me" – Sia
"Both Sides Now" – Gang of Youths (this version suited the story better)
Wherever You Will Go" – The Calling
"Over the Rainbow" – Israel Kamakawiwo'ole
If you're a Spotify user and you want to follow the playlist, I'd love to hear what you think.