Lately I've been loving reading more than writing. I've lost myself in the words of others – I'm finding myself looking at how they use language as much as enjoying their language. Make sense?
So, what am I reading? I'm working on some edits (for other people) of projects involving fairy tales at the moment, so I've catered to my love for fairy tales in my recent book purchases. The two following books are not fairy tales per se, but they include tale telling to impart deeper wisdom.
My highlight for the month would have to be A Monster Calls by Patrick Ness. Thank you Jane at Beaufort Street Books for recommending this – it was a beautiful reading experience all round. Gorgeous prose, a moving, no, wrenching, story… By the end I was a sobbing mess. Many books have made me cry, but this much? I kept picturing myself as Conor (also the name of my oldest son), and alternately as his mum, as they fought the monster of death. It's haunting, but there's also some dark humour and mischief to add lightness to this fantasy-driven novel that is most definitely just not for children.
I had my long overdue introduction to Neil Gaiman's work with The Ocean at the End of the Lane, another haunting read that made tears prick at my eyelids. Beautiful, wisdom-filled prose enhanced a magical and mysterious novel brimming with nostalgia via childhood memories and fears, which reminds us how we, as children, turn to imagination to make sense of the world. It's a wonderful,  read that has me wanting to read more of Gaiman's work as soon as possible. Like A Monster Calls this book calls to be read over and over (by adults and young adults). I suspect deeper meaning will be found on each new reading.
I'm currently reading If Women Rose Rooted by Sharon Blackie and I have Neil Gaiman's The Sleeper and the Spindle next in line.
I've ticked off a few books on the review shelf as well this past month.
Finding Hannah by Fiona McCallum was a touching self-discovery read about a woman's small steps toward healing after a horrible tragedy – I would say it's my favourite by McCallum to date. I expected a tried-and-tested story about finding love after tragedy, but what I got was something deeper, as McCallum's protagonist learns to live again. Be warned – you may need tissues for your tender heart. (Harlequin, $29.99 RRP)
Twist by Kylie Scott is a sexy contemporary romance that benefits from sizzling chemistry between the leads. A case of mistaken identity – or is it omission – brings the leads together in a heated clash that leads to even more heat in the bedroom. It's not usually a book I'd select (not my genre of choice) but Scott rocks the tale telling. If sizzle is your thing, definitely check this out. (Pan Macmillan, $29.99 RRP)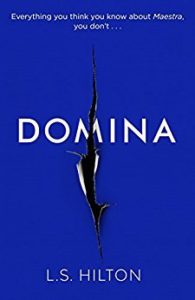 Domina by L.S. Hilton follows on from Maestra, a novel I wasn't a big fan of when it was released. Anti-heroine Judith Rashleigh's past catches up with her in the sequel and she has to draw on all of her wiles and cunning resources to stay one step ahead of blackmailers. Like the first, it's racy with a voyeuristic feel, but for me the middle lagged and I was left liking this one no more than I did the first. (Allen & Unwin, $29.99 RRP)
Luckily, I had The Scent of You by Maggie Alderson to go on with. The high-stakes world of fragrance proved an interesting and luxurious background to a story that's essentially about a woman whose life is turned on its head when her husband disappears. As a lover of perfume, I was hooked by the perfume world, but as a lover of story, I was kept in by an authentic and unsettling domestic mystery that, when it was revealed, reminded me of events in my own life. A terrific read that's full of warmth, wit and memorable characters. (HarperCollins, $32.99 RRP)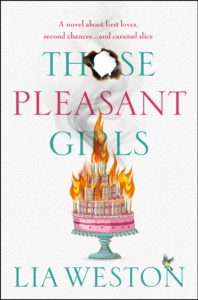 But, of the review books this month, Those Pleasant Girls by Lia Weston won me over with its refreshing, light-hearted and witty writing style. After interviewing Lia recently, I see we have a lot in common, including what we find funny. Both Evie and Mary (her daughter) are well-drawn characters (Evie is particularly memorable) who are aiming for a fresh start in a small town where Evie has a bit of a reputation. I laughed out loud many times and thoroughly enjoyed the book from start to finish. I'd recommend this for readers who like second chances and cake. (Pan Macmillan, $29.99 RRP)
That's it for now. Time to get back to reading.
PS. Watch out for my two-part interview with Lia next week.