IMAGE: MATT JELONEK, COMMUNITY NEWS
Rashida Murphy has published her short fiction and poetry in various literary journals and anthologies, in Australia, India, U.K and U.S.A. The Historian's Daughter was shortlisted in the Dundee International Book Prize in 2015. Currently she is Books Editor at Cafe Dissensus and a past editor of Westerly Magazine. Rashida has a Masters in English Literature and a PhD in Writing from Edith Cowan University. After a short-lived career as a pen seller, Rashida taught ESL and Writing for several years before undertaking her PhD. In 2016 she won the Magdalena Prize for feminist research for her thesis which includes the novel The Historian's Daughter. She lives in Perth with her husband and visiting wildlife. Rashida will be my guest at Stories on Stage on May 24. 
Monique: Your debut novel The Historian's Daughter was released in 2016 to critical acclaim. Tell us a little about it. What were some of the themes you explored?
Rashida: The Historian's Daughter is a novel about the decisions women make when they are afraid, and the consequences of living with those decisions. I was interested in how perceptions of people are based on where they come from, how intrinsic racism is to the human condition and how I feel about these things as a brown woman living in Australia.
Monique: You've said that an incomplete memory was one of the inspirations for this novel. Tell me more about that. What other inspirations were there?
Rashida: The incomplete memory came from childhood. Actually there were several fragments of incomplete memories that are so fleeting, I hesitate to call them 'memories.' But the one I'm interested in most is the memory of a young man from Iran who lived with my family in India when I was a child. Then the Iranian Revolution happened and we never saw him again. This novel was, in part, an enquiry into the kinds of external factors that can render a generation of people homeless, and how do we, as human beings, deal with that.
Monique: Do you have a favourite character in The Historian's Daughter? Which one are you most like? Is there much of you in this book?
Rashida: I have several favourite characters – Gabriel and his dog Jarrah especially, because they were both unexpected. I love Gloria too. And poor clueless Hannah.
Monique: What's the feedback been like for this book?
Rashida: Mostly positive, which is lovely. Amanda Curtin describes it as a complex novel that deals with events that may conceivably make a refugee of anyone. Vivienne Glance comments on how men and the wider society treat the women of this book, and how they treat each other. Josephine Clark likes the way it deals with loss associated with moving across cultures and continents. And you have said some lovely things about the novel too, Monique. Of course I am pragmatic enough to own that bad reviews are part of the writing life and I hope I retain my humour and perspective when dealing with those.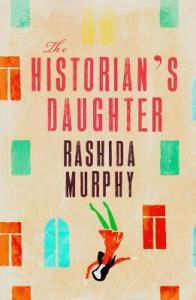 Monique: What have you learnt from the experience of writing and publishing a novel?
Rashida: Learnings – that nothing goes as planned. I thought I was writing a novel about the Iranian Revolution. Instead I was really writing about vulnerable girls and women, and the men who try to rule their lives. And publication has been an unexpected and positive experience.
Monique: You've also had short stories, poems and essays published. Which form do you like writing the most?
Rashida: It depends on the thing being written at the time! But I'd have to say the short form is my favourite. Short stories, flash fiction, poems and essays. That said, I'm enjoying writing my second novel. But check back with me next year, and you'll hear something different.
Monique: You also work as an editor. What's it like editing books and stories?
Rashida: Editing has been a great learning experience. Everyone does it differently, I'm sure, but when I'm editing other people's work, I look for what they are really saying and how they are saying it. My job is to make their writing sparkle without losing their essence, their voice. I always check with the writer before changing anything. I offer suggestions but mostly ask questions. I find that helps me when people are editing my work. When I'm asked a question, I can usually work out what to do. And writers are smart people. I expect them to work it out themselves, and they do.
Monique: What are some of the challenges writers face today?
Rashida: Challenges – everything from social media distractions to lack of dedicated time to pursue their craft. Writing remains a guilty secret for most writers. I still apologise for it sometimes but I'm getting better at saying, 'I'm a writer' clearly and confidently. And the fact that writers don't make a living from their writing. So writing will either take second place to a 'real' job or you become comfortable with poverty, or you send your partner out to work and sell the kids when they are little!
Monique: What other writing-related projects are you working on at the moment?
Rashida: My new novel, a couple of stories and essays. And some poems. Then there's the editing of other people's work. And lots of reading.
Monique: Where did your desire to write spring from?
Rashida: A desire to make sense of dislocation, a new landscape, holding on to a concept of 'home' when home is two countries and you wonder if this is normal. Sometimes I write from a deep sense of injustice, for myself, and for other people. Also from a sense of sorrow that nothing ever really changes. We repeat the same mistakes. History is full of lessons we ignore.
Monique: What do you do when you're having doubts about your writing? What happens when you get stuck?
Rashida: Write anyway. The doubts never go away. Writers understand intrinsic and extrinsic rewards intuitively. If we only wrote because someone tells us we are good or someone publishes us, we would probably write once a month. We write every day, (or we ought to) and we know that every word isn't lovely and shiny and we need to keep doing it so we can get to the lovely shiny words. That's my take on it.
Monique: What's your typical writing day like?
Rashida: I try to write for at least three hours when I don't have deadlines to meet. If there's something that needs doing, I write till its done, or till I've made sense of it. I walk, read and plant herbs in my garden when I need to think. In winter I knit for that reason …
Monique: What's the biggest myth about being a writer?
Rashida: That we'll become famous and make money 🙂 And that it gets easier after you've been published.
Monique: What has writing taught you about resilience?
Rashida: I think I've talked about intrinsic rewards earlier. Resilience is tied to that. I accept that I write badly on some days and well on others. I accept that there are people who will read and publish my work and some who hate it and will never do so. I write because I must. I need to. Everything else, recognition, publication, acceptance, is secondary. Of course it's great to be noticed, but I would write anyway. I've been writing since I was 13. Publication came decades later.
Monique: When you write, what is your biggest weakness?
Rashida: Self doubt.
Monique: What do you think about the phrase 'write what you know'?
Rashida: Hah! We all write what we know, imagine, dream about, don't we? I've never been to Iran or lived through a revolution, but I wrote about it. So I think it limits us if we only wrote what we knew. That's what imaginations are for surely. The trick is to be empathic and aware and willing to be guided. You need to be open to being told you've misread, or appropriated someone's culture without feeling offended. And if you're willing to understand, I think writing what you know should not limit you, but also, there's nothing wrong with writing what you know. Think Jane Austen and Thomas Hardy and Alice Munro.
Monique: Which authors/books do you admire the most?
Rashida: When I was 18 I read a book that defined my self-hood in a way that I can't describe. That book was Midnight's Children by Salman Rushdie. It spoke immediately to me as a young woman in India, about my identity, acknowledged my multiplicities and celebrated my in-between-ness. So Rushdie remains a favourite although I don't love everything he writes. Gabriel Garcia Marquez is another favourite, along with Kate Atkinson, Margaret Atwood, Kamila Shamsie, Kiran Desai, Jhumpa Lahiri, Amanda Curtin, Carmel Bird, Helen Garner … the list is long so I need to stop!
Monique: Which book are you reading now?
Rashida: I usually read several at the same time. I'm reading The Madwoman Upstairs by Catherine Lowell, because of course, there's a madwomen upstairs in my novel and the title appealed. I'm loving it. I'm also reading poetry by Amanda Joy and Susan Varga. And a book about churches, and another about books, by Alberto Manguel.
Monique: Which "must-read" book have you not yet read?
Rashida: Bel Canto by Ann Patchett. It comes highly recommended to me by several people, including Annabel Smith, whom I admire greatly as a person and as a writer, so I'm looking forward to reading it. Another book on my must-read list for a while has been Middlesex by Jeffery Eugenides, and that's on my pile to read next. I had a fairly colonial education, so I've already read the 'classics,' everything from Inferno and Great Expectations to Jane Eyre and Wuthering Heights.