Do you have a critique partner?
When I first started writing Wherever You Go, my kindred spirit friend and fellow writer Maureen Eppen and I would meet once a month in a café and critique each other's work. Since then, life has changed a lot for both of us and we can't meet as often as we used to, but I always knew that if – no, when – Wherever You Go was published, she would be the one to help me launch it.
And that's exactly what happened on September 18, 2020. I can hardly believe it was nearly a month ago. For those of you who missed the launch, here's a summarised form of our Q & A on the night. For clarification, this post first appeared here on Maureen's website, and ME = Maureen Eppen, while MM is, well, that's me.
Enjoy!
ME: Wherever You Go is an incredibly emotional story – one that is likely to move readers to tears. My first question is therefore about emotions, but not about the emotional impacts of the story. Monique, tell us how you feel to be celebrating the launch of your novel.
MM: The best way I can put it is terrifyingly excited. You're putting a piece of you out in the world and it makes you really vulnerable. Once it's out there, you have no control over how people respond to it, so you have to trust that this piece of your heart will find its way to the right readers.
ME: Monique, please give us a summary of the plot – without giving too much away, for those who are yet to read the book.
MM: Three years after a life-shattering tragedy, Amy and Matt Bennet move to a small town in a last-ditch attempt to save their marriage. Amy wants to escape from what happened and live without constant reminders; Matt wants to move forward while still acknowledging the past.
Amy opens a café and starts a supper club, welcoming the distraction, while allowing herself to gradually become part of a community. But she has no idea what's going on with her husband and, instead of improving, their marriage is taken right to the edge.
It's the story of a couple working on their marriage, a story of loss and grief and redemption, and, for a touch of light, a story of food as a healer.
ME: You've been working on Wherever You Go for several years now. Can you please tell us about the genesis of this story?
MM: There are a few things that seeded the story: The quote "Wherever you go, there you are" by Jon Kabat-Zinn and the idea that you can't run from yourself; my love of food, cooking, and cooking for loved ones; a frustrated desire to travel; and a newspaper article about a couple's tragic loss that inspired the big "What if" questions.
ME: Setting plays a significant part in any novel, and the setting for Wherever You Go is very close to your heart. Can you tell us about the inspiration for the town of Blackwood, and why it means so much to you?
MM: Blackwood was inspired by Bridgetown, about three hours south of Perth. I've taken elements of the real town – the soupy winter fog that rises from the valleys, the steep up-and-down hills, the old fibro homes, the locals' friendly curiosity (and sometimes suspicion) towards newcomers, the region's wonderful fresh produce and food; I've reimagined the town's bakery as an artisanal bakery and I've added in Amy's café, Brewed to Taste, which is an amalgamation of many cafés I've visited but is bigger than any of the cafés in the real-life town. Early in the writing process, I visited Bridgetown in different seasons, and walked around the streets, taking photos of houses, streetscapes, and birds, flowers and plants. For months, a mood board sat on my desk and I'd refer to my photos whenever I needed to work on creating a sense of place.
Sometimes you are drawn to a place. You can imagine yourself living there, imagine the day-to-day life beyond how it feels and looks when you're a visitor. That's what Bridgetown is to me.
ME: Your story is told primarily through two main points of view – those of grieving husband and wife Matt and Amy. Can you tell us a little about each of them, and perhaps a little about their relationship?
MM: Amy and Matt love each other very much and have been together since their early twenties. But the loss they've experienced has changed them both, as it would. Amy, a chef by trade, has become more self-absorbed as she tries to box away her grief and guilt; Matt, an engineer, takes responsibility for her healing at the expense of his own.
ME: The support of good friends can help us through many challenges, and friendship has an important part to play in Amy and Matt's ability to find hope for the future, despite their terrible loss. The characters who forge friendships with Amy and Matt are beautifully crafted. Can you tell us a little about your favourite secondary characters, and how they fit into the story?
MM: Ashlee. She's four, she's sassy, and she knows what she wants. I think she's a bit like I used to be when I was that age – a cheeky little chatterbox. She lives next door to Amy and turns up whenever Amy doesn't expect, working her way into Amy's heart. I also have a soft spot for Frank, the tradie with an unexpected backstory.
ME: Food – glorious food – plays an important part in Wherever You Go, and there are even a couple of recipes at the back of the book, for dishes that feature in the story. Monique, can you tell us a little bit about how food helps Amy to rediscover the joy in life – and how the Around the World Supper Club allows Amy and Matt to find comfort in the company of friends, over fine food and wine?
MM: For Amy, cooking for others is a way to show she cares. But when the novel starts, she's lost her passion and not sure she'll find it again. The Around the World Supper Club almost comes from her business side, a way to use the secondary space she's set up next to the café. I don't think when it starts, she really has any idea how important it will become to her personally.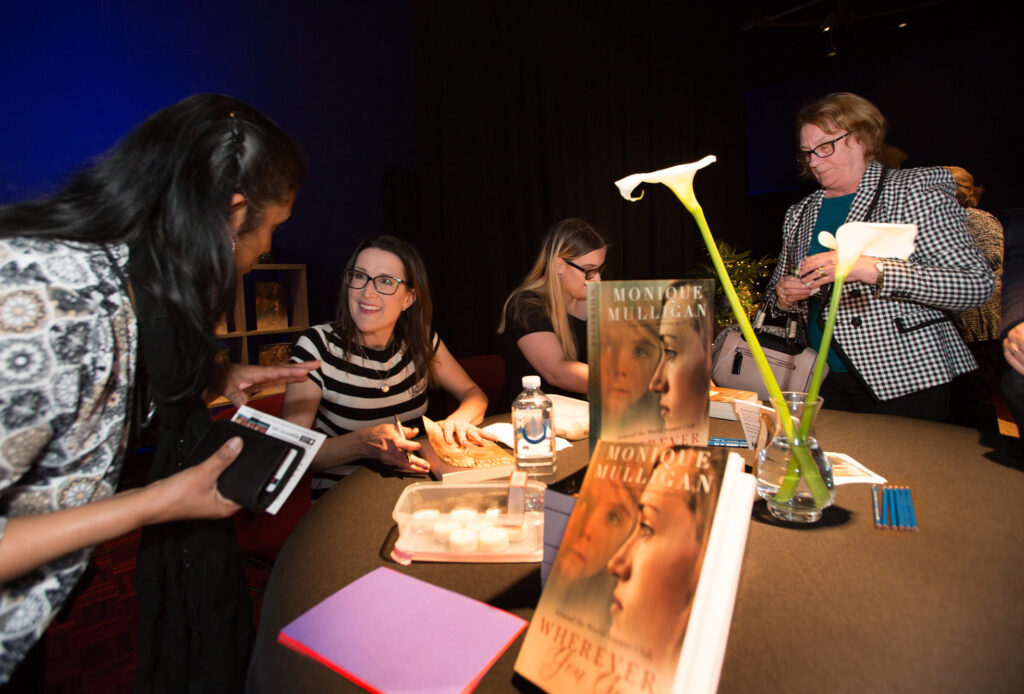 ME: All of your characters are authentically crafted and convincing. Are any of the characters inspired by people you know; and which of the characters is or are most like you, and why?
MM: The characters are amalgamations of people I've met over time, but no one in particular. Ashlee is probably like me as a child – I was very much a chatterbox when I was little, although by eight, I become more reserved. Now I'm more of an introvert. Amy and I share a love of cooking (I've given her my dream kitchen), but emotionally we're very different. Matt is probably the most like me and I didn't realise this until after the novel was done. I know how it feels to take responsibility for another person's pain and actions and to come to that crossroads where you ask, do I continue with this and lose myself?
ME: Many of my author friends have told me how they have agonised over the titles of their novels, – only to have their publishers come up with a different title when it's time for the book to be published and released. You've always known that you wanted this book to be called Wherever You Go. Can you tell our audience the significance of the title?
MM: It comes from the quote "Wherever you go, there you are" by Jon Kabat-Zinn. I always knew I wanted to explore it in my first novel, to look at how people try to get away from themselves. They move somewhere different, change jobs, even change names, but they can never quite outrun what is essentially part of them, whether it's guilt, grief, pain, shame, fear. In writing this novel, I asked, how long can you deny how you came to be who you are?
ME: Loss and grief are powerful themes in this novel, but it's ultimately a story about love, friendship and hope. Can you tell us all why it was important to you to include those elements in your story?
MM: You have to have the light and the dark. If it's all dark, it's depressing … Amy and Matt's experience and the way it is explored is very emotional. It was important to me to bring in moments of lightness and laughter, through characters, comments, observations, and of course, the feasts.
It's also how I am in life. I tend to laugh at myself a lot. To look for the light, the beauty in the world.
ME: You've had a long and complex journey toward publication. Somehow, despite re-writes and edits, you've managed to retain the original emotional integrity of your storytelling. Tell us about the challenges associated with the writing and editing process and why it was important that your writing reflected your original vision for this story and these characters?
MM: There were so many challenges, Maureen. I find writing drafts the hardest part, and so that was a challenge. Going through the process of submitting to agents and publishers was another. It all takes time. But it was an important journey to take, and I've learnt so much. I had to learn to make every point of view count; to make every scene count and move the story forward. Mostly, I had to learn how to write conflict – it wasn't enough that Amy and Matt had suffered a loss. I had to throw everything at them and really make them work.
Sometimes I wondered whether I'd lose my voice in all the revisions I was doing, but looking at it now, all I've done is made my voice speak louder. And that's made the challenges worth it.
ME: Wherever You Go is published by new independent publishing company Pilyara Press. Can you tell us a bit about Pilyara Press, your part in this collective and how your book came to be published?
MM: Pilyara Press appeared in my life in a most serendipitous manner. Even now, a year later, I still can't believe it happened the way it did and I feel so grateful and fortunate. A simple comment on a Facebook post led one of the group members to reach out and ask if I'd like to join this trailblazing collective of writers who were pooling considerable expertise from years of publishing experience. And I said yes. From there, my book went through the full editing process – a structural edit, copyedit, proofreading, publishing … and now it's a real book. You can hold it!
ME: A number of well-known and successful Australian authors have provided incredibly positive responses to Wherever You Go. How did you feel when you sent your precious story out to be read by others, and what was it like to read those early reviews?
MM: My first reaction was something like, "Are you serious?" followed by self-doubt. Were they just being nice? And then I let myself own these beautiful words and I cried with happiness and relief. You're in such a position of vulnerability and it's a bit different to putting the book out to the wider community because these are writers you know and admire, and their opinion carries so much weight.
ME: I've now come to my last question, and it's one that offers hope for the future – just asWherever You Go offers hope that life will get better for Amy and Matt. Can you tell us all a little bit about your next writing project, please Monique?
MM: I plan to write another two books in the Around the World Supper Club series and I've started Book 2 – The Story You Tell – which picks up about two years later and focuses on Bonnie, Amy's next-door neighbour.  But what I've written is very scrappy, notes really, and I'm not ready to dig deep into it quite yet. I haven't been able to focus and I have no idea how some writers are contracted to a book a year!
Wherever You Go is available now from all online bookshops or here.