Rocky Romance was released on November 20 at the Rockingham Book Fair. I joined the book's other five authors (Monique Hall, Mike Murphy, Teena Raffa, Louisa Loder and Karen Weaver) for a book signing session, which involved lots of discussion over who had the best signature, and whether Teena's cute daisies next to her name had four or five petals. A small amount of champagne may have been consumed at this point.
We had some terrific publicity in the lead-up to the launch, including newspaper articles and a radio interview on 6PR Perth's Afternoon Program (listen here). As the editor of the anthology, I was the lucky one to be interviewed.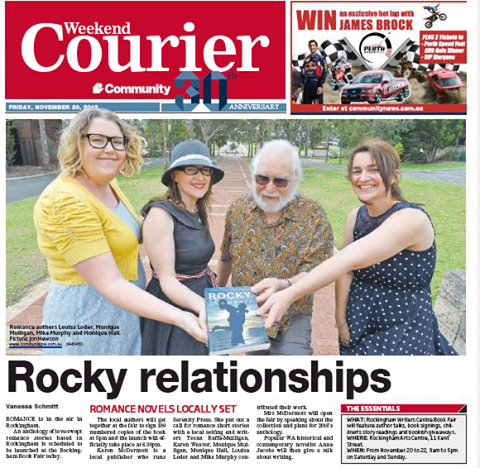 Over the weekend, Rocky Romance went on to be the biggest selling book at the book fair, which was thrilling for all of us.
Even more thrilling was when the reviews started to come in:
"There were several great stories that I enjoyed" … Readers' Favourite

"The second one by Monique Mulligan, was different to the first. It was basically love at first sight or was that lust at first sight. Loved the humour in it, but there was also a message about not jumping to conclusions and stop to listen because sometimes things aren't as they seem." … Len Klumpp, reader

"I just read The Point of Love, and wanted to tell you I really enjoyed it. Such a lovely story. I loved Lexie and was happy to see she shared my obsession with Thor. (I'm sure there are other women out there, perhaps a support group could help?). Your description of Rockingham was beautiful and made me want to pack and move. I want to see all those sights you described so beautifully, and stay. The place sounds idyllic. My favourite line was: Looking like a god in a white tee-shirt and jeans, while she looked like a banshee with her non-designer bed hair. I laughed so much, I could totally relate. Great story. Keep writing." … MJ, reader
To get these reviews for my first-ever romance warms my heart. Thank you so much to those who have bought the book and taken the time to send me feedback. You've made my year!
Click on the links to buy Rocky Romance.