Many years ago, I went to an art class, full of enthusiasm and a desire to paint from the heart.
Before I go on, here are a few of things you may not know about me:
I topped art in my senior years at high school;
If I couldn't be a journalist, I wanted to be a graphic designer;
I studied art history at university;
My favourite Australian painting is Frederick McCubbin's Lost Child and it is one of the influences for my current work in progress;
When I was in Year 2, I went through a stage of painting TV sets in shades of black and purple every week during art time. I still don't know why.
By the time I was in my twenties and studying art history, I knew deep down I was better at writing about art (I waffled my way to several High Distinctions) than making art, but I still harboured this desire to do a painting class.
"Every artist was first an amateur."
Ralph Waldo Emerson
I remember that night so clearly.
The smell of the turps.
The blank canvas, awaiting my touch.
The clean brushes of all shapes and sizes.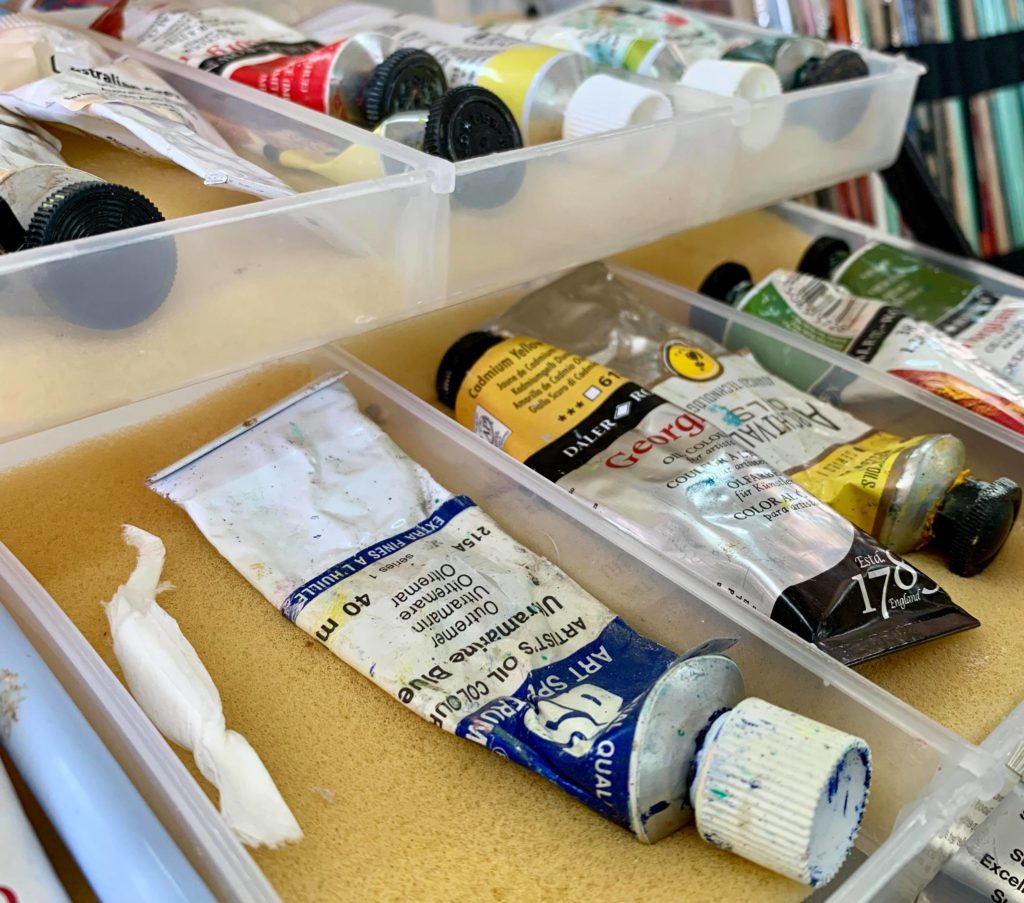 I remember the class being directed to paint a tree from supplied photo and … I remember sketching an outline, picking up a brush, whacking paint on with a dab here, a flourish there (I had a real rhythm going with the fan brush) …
And that's when the teacher (I only remember him as a grumpy old man, sorry guys) picked up a cloth and—
WIPED. ALL. THE. PAINT. OFF.
I'm serious.
He wiped it all off, said I'd done it all wrong and told me to start again.
From a technique point, he may have been right (I had no idea about layers – these lessons had been taught before I came to that class, midway through a term).
But his manner nearly killed something in me that day.
And it opened a festering wound – self-doubt.
I walked out and never went back to that grumpy old man's class, vowing never to bother with a class again.
"The very essence of the creative is its novelty, and hence we have no standard by which to judge it."
Carl Rogers
Instead, I focused my not-quite-dead creativity (in between raising children, working and moving around the country) on scrapbooking, cardmaking, bead jewellery making, candle making, drawing mandalas … and finally, writing.
Last week, more than twenty-five years later, I finally found the confidence to try another class.
It was a Cabernet & Canvas "paint and sip" style class where an artist takes participants step-by-step through the creation of a painting.
It was the most fun I've had in ages. And each person there learnt something valuable – to have fun, to try, and not to worry about our efforts being wrong or right.
I'll let the pictures tell the rest of the story, but before I do, here's something I've learned from this experience:
"I've learned to ignore the negative people and just be a living example of confidence and self-love." – Khoudia Diop
Have you ever had your creativity squashed? What happened? How did you overcome it?
PS. Sometimes the negative person is that voice in your head. Be kind to yourself.