Why did I hit the Wall last week?
Why did I feel flat after weeks of excitement leading to an overseas writing retreat? Why did I feel not a spark of creativity? Why did I begin to doubt my own creativity?
In hindsight, it's so obvious (isn't it always?) – too much DO-ing and not enough BE-ing.
Let's put it another way. You BE creative, you don't DO creative.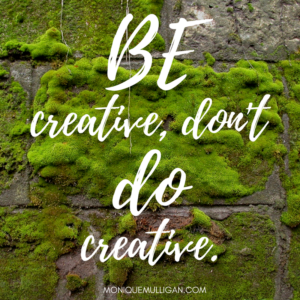 And if you get to the point where you can't BE, you need to take a break. As my friend Sonia said, "Creativity needs time to breathe". Yes! When I read those words, I had an 'Aha' moment, a moment where I knew she got exactly where I was coming from, and in a few short words, nailed it.
I was DOing so much that I smothered my creativity, my need to BE, and then I hit the Wall. Bam! And Self-Doubt sailed into my waking life for days, stifling whatever fragment of creativity still existed at that moment.
In her book Still Life with Teapot, Brigid Lowry has a terrific perspective on writer's block (or in my case, DOing creative) which really resonated with me:
"If you are not writing, don't write. Stop! Fully and completely … do this without guilt or punishment. You are not a pasta machine. You'll only turn out poor quality work if you force yourself onwards, grudging and unwilling… These days, when I don't want to write, I surrender to that."
So how did I get over the Wall? I allowed myself time to BE. I nurtured my Self. Read books. Visited friends. Went to bookshops. Watched Netflix. Walked. Went to a classical concert. Baked. Gardened. Played with the cat. Just … hung out.

I didn't push myself to be creative at all. I surrendered to the fact that I didn't feel like it (or like very much at all).
And then, once I had time for my Self, I accepted that my feelings – doubt, exhaustion, confusion, worry, uncertainty – were okay (and temporary) and let them go.
I'll come up against the Wall again. I know myself. I DO all the time and forget to BE. I get so excited about all the wonderful things to DO … and eventually my Self says 'That's enough'. But I'm not afraid to meet the Wall – even though I don't like it – because it keeps me in check. Gets me to focus. And reminds me why I do what I do – write.
I'm ready again. I'm ready to, as Brigid suggests, 'Write with every ounce of your being".