Anne Buist is the Chair of Women's Mental Health at the University of Melbourne and has over 25 years clinical and research experience in perinatal psychiatry. She works with Protective Services and the legal system in cases of abuse, kidnapping, infanticide and murder. Medea's Curse is her first mainstream psychological thriller. Professor Buist is married to novelist Graeme Simsion and has two children. You can find out more about her here.
Monique: Your first novel under the name Anne Buist, Medea's Curse, has recently been released and it's on my to-read list. Can you tell readers a bit about it, and about the issues it raises?
Anne: The pitch line for this was: A troubled forensic psychiatrist (Natalie King) gets pulled into a missing child case and puts her reputation and life on the line. The story follows her interactions with Amber, her ex-husband Travis and his new partner Tiphanie and their missing daughter, as well as two other of Natalie's patients, Georgia accused of murdering three children, and Jessie with a possible abuse history. It's a thriller—so the pace is fast as it hurtles towards an end with twists and surprises, but it also has a lot of authentic psychiatric background.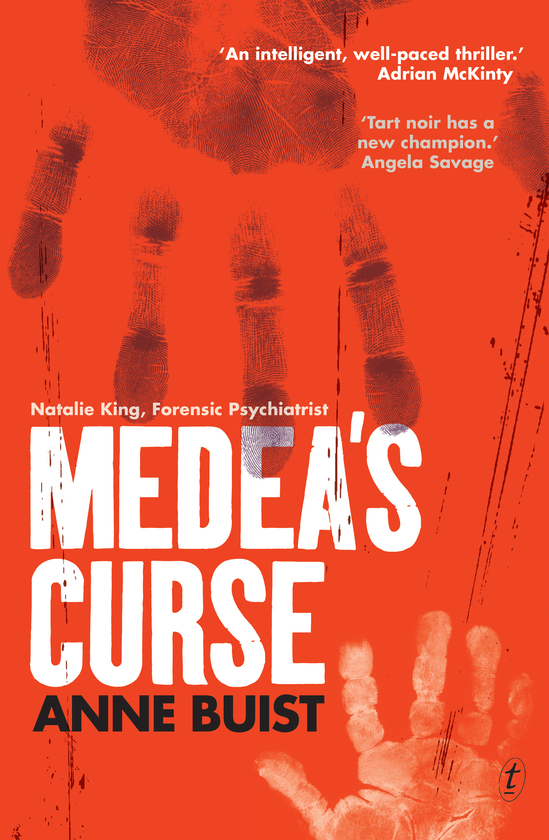 Monique: Why was it important to you to raise these issues?
Anne: One of my reviewers commented on how I helped the reader empathise with troubled people in difficult situations: I think it is really important to understand why things happen if we are to ever prevent some of the tragedies raised here. The people in Medea's Curse aren't evil—they are complex and sometimes make one bad decision when then begins a cascade of other bad decisions and events.
Monique: What's the feedback been like so far for this novel?
Anne: I have been lucky enough to get a number of main stream press reviews as well as interest from bloggers and the Literary Festivals and Libraries. Mostly the reviews have been very positive, and there has been a lot of positive feedback from audiences—some who had already read it and were hoping another was on its way (the next in the series, working title Hera's Judgement, is sitting on my editor's desk, and I am writing the third, Rhea's Deceit). The pace, the authenticity and psychological insights have been the positives—the jargon has been hard for some people. A few find Natalie confronting—I think this goes to our stigma about mental illness, and the belief that doctors and professionals should be "perfect". Natalie isn't—she has bipolar disorder, but she is also smart and very passionate about her patients and her work.
Monique: What do you like about writing psychological thrillers?
Anne: Aspiring authors are told to write what they know—and as a psychiatrist I know about the internal workings of the mind. I love reading psychological thrillers because the "thriller" part of the genre means it is an easy place to escape to and be captivated by as the story rushes along. I don't watch much television—for me reading a thriller is better as you can use your own imagination to flesh out what the author gives you. So writing them, I escape to a world I get to create. Admittedly it isn't always a comfortable one and things don't always go well—but then there's the next book to look forward to! In Medea's Curse, Natalie's warehouse is based on one I almost bought. So I get to feel I did as a bonus in this story! In the next book she lives in a house in Separation Creek inspired by one a good friend owns. I get to live her exciting life without the negatives—and I always know she's going to survive (can't say that about any of the other characters though…).
Monique: You're a practicing psychiatrist. How does this affect your writing?
Anne: I stopped taking on new long term patients when this book was published, because I didn't want it to get in the way for patients. I now just do one off assessments and second opinions as well as running a parent-infant unit. The other reason is that I don't have time!
Most importantly, I am very careful that my characters are fictitious. They are inspired by many years of seeing many people in situations like I present in the story, and my characters occasionally discuss real cases that were in the media, but these were not women I ever saw or was asked to give an opinion on.
Monique: You've also written erotic fiction under the name Simona Sinna. What did you enjoy about that, and are you still writing in that genre?
Anne: Writing erotic-romance-suspense under a pseudonym was a lot of fun—and great practice. You don't get good at something overnight, and writing is no different. You need to put in the hours. I have three unpublished manuscripts of psychological dramas sitting on my shelf, and then ten published Simone Sinna books/novellas. It was a nice step towards publishing a mainstream novel as I got to hone my craft with positive feedback (and some fun covers that are on my wall). But I have drawn a line under that period of my life and because writing for a mainstream publisher there is a much stronger focus on quality, I don't want to be pulled back into sloppy habits. I also in the end found the restrictions of the romance genre very dull and frustrating. Psychological thrillers give a lot more scope.
Monique: How has your husband Graeme Simsion (The Rosie Project, The Rosie Effect) supported your writing journey?
Anne: Graeme and I have been married over 25 years and we have always been each other's main cheer squad. It was him that helped me get over my fear of rejection, help me plan how to write when I had young children and no time, and he enjoyed the benefits of the imagination needed for the Simone Sinna books…He and I plot together and he also is a big help with my male characters, particularly Liam, who is the Crown Prosecutor and love interest in Medea's Curse.
Monique: At Perth Writer's Festival you and Graeme said you prefer to write together. Can you explain how that works?
Anne: We write in the same room more often than not—and he gets the coffee and glasses of wine more often than I do! Our favourite places are a rustic cottage in Lancefield we go to Thursday night until Monday when we are in the country and not at a Festival, and our house in France. Both are remote, with country views and air, have a good supply of coffee and wine, no television and only mobile phones.
Monique: You and Graeme are also writing a book together. Can you tell me a bit more about that?
Anne: This is a project that comes from the heart. We have a full draft, with alternating chapters from the male/female protagonist's point of view, but have had to put it temporarily on hold while Graeme finishes his third contracted sole author book. The reason we feel so strongly about it because its set on the Camino de Santiago, that we walked from central France (Chemin Frances), then through the Pyrenees to the Coastal Camino (Camino del Norte) and Primateva Camino (so not the well written about trail across the north of Spain). We walked it in 78 days, covering 2038 km and carrying 6 and 10 kg respectively. It was a life changing experience—when I had my epiphany about life being too short to not spend more time with my writing passion, among other things. The novel is fun, a light romantic comedy with a bitter British divorcee and a flaky Australian woman who is recently widowed.
Monique: Tell me about your road to publication. What are some of the highlights and lowlights?
Anne: The highlights start with the decision to twice, give it a go. So many writers get stuck here, stuck on the perfect sentence, frozen with it not being perfect and how they might be perceived. First in my early thirties I started doing one page a night and not re-reading until at the end I had something to edit. Then about five years ago after walking the Camino I decided to try again. Low lights? Yes, I have rejection slips. Reading them though now—I got to the last phase at Random House 20 years ago—they were surprisingly encouraging, but I didn't see that at the time! Publishing as Simone Sinna was fun, and when Text Publishing accepted Medea's Curse, I was over the moon. Unlike a lot of writers I love the talks and presentations. But negative feedback is hard—the professional reviews are usually fair and balanced, it's the Goodreads and Amazon ones that I avoid looking at!
Monique: When you write, what is your biggest weakness?
Anne: Remembering that, to quote Hemmingway, the first draft of everything is shit. But I have got much better at that, and at picking what works and what doesn't. I have tendency to put in too much and expect too much of the reader, and solved that in the sequel, Hera's Judgement (I think) but am grappling with it again in the third in the series.
Monique: What's the biggest myth about being a writer?
Anne: That anyone can write. Writing is a skill that has to be learned and you need your 10,000 hours just like you need to be a good doctor, psychiatrist, plumber…you name it. Writing requires prose skills, ability to develop believable characters, and in a novel, to hold the reader's interest with a story that in the case of thrillers has multiple threads that need to inter-weave and conclude satisfactorily. Dan Brown and James Patterson is great on the third, and weak on the quality of the first (and Brown struggles with relationships).  Most literary books are weak on the third, and variable on the character development and arc.
Monique: Which book are you reading now?
Anne: Just finished SJ Watson's Second Life. Now on Elizabeth Haynes's latest Behind Closed Doors (loved her first three, so-so on her fourth which was the first in this series) which I am enjoying—back to her form of the first three.  
Monique: Do you ever skip ahead a few pages or read a book's ending?
Anne: Never. Ten Little (?Indians…was a far worse title when I read it) by Agatha Christie cured me of ever doing that. I savour every moment of the world I've entered into—and if I'm not then I will usually not read it.
Monique: Apart from writing-related projects, what else do you like doing with your time?
Anne: I work two days as a psychiatrist and gym three times a week, swimming once a week for my back. I love to travel and we doing one walking holiday a year—this year in the West Highland Way in Scotland, last year was Hadrian's Wall and the year before the Coast to Coast in the UK. We are hoping to walk the Assisi route from our house in France to Rome next year if we can fit it between events. It's about 1500km so we need about 9 weeks—we plan to have the sequel to our Camino book set on this route!
Thank you for answering my questions, Anne!