Hello my young friend,
I can address you like that because you're only 38 and I've got almost twenty years on you. How scary is that?
A lot has happened in the intervening years. That dream you're only just beginning to dream, of maybe, one day, being a published author has definitely come true. You've written five published novels. The one you're starting right now, the one you plan to be all literary and poetic is sitting in the proverbial bottom drawer. Don't get me wrong, there are some lovely moments in there but it's labored and trying too hard and just isn't your voice. You're going to learn a whole lot in the writing of it though, toughen your armor as you share it with your classmates as part of your Masters Degree, and continue to refine and revise it before sending it out to agents and publishers. That's when it's going to teach you about rejection, and how it's all a part of the process.
More importantly, that novel and the degree are going to get you so hooked on writing that you're going to take a (permanent) break from teaching and throw yourself into your new passion. You're going to discover that teaching adults to do something they love is so much more rewarding than wrangling secondary school students into chairs and hoping they complete at least one task before the bell goes. And if that's not crazy enough – those adult writing students are going to a) beg you to give them homework and b) actually do it!
Completing your Masters is just the start. Pretty soon you'll meet an amazing group of fellow writers you join forces with in a regular writing group. Some will leave but in the coming years, these writing buddies are going to be your champions when you succeed and your consolers when those inevitable rejections come flooding into your inbox.
There are going to be plenty of times you feel like giving up, suffer from imposter syndrome and get totally frustrated by the market-driven wheels of the publishing industry.
But more on that later …
After spending the next six or so years (but who's counting) writing your great literary masterpiece you are then going to write a 50K word novel in a month as part of a thing called National Novel writing Month, or Nanowrimo. Hard to believe, I know, but pushing yourself to write every day and getting the story down on the page instead of trying to perfect every word in your draft will not only uncover that voice I mentioned before, but will result in your very first published novel, Blackwattle Lake. Luckily for you, a thing called Rural Romance is going to happen and your novel is going to be part of that phenomenon.
What you're just beginning to realise is the way writing connects. Connects you with yourself, your fellow writers and your readers. How amazing is it that something you have felt or experienced can resonate so deeply with someone on the other side of the country – or world – whom you have never met? You're going to write about universal experiences like love and family, friendship and belonging, death and loss, and a whole range of relationship issues. Your characters are going to be strong but flawed women (who does that remind you of?) and if you make your readers cry you're going to be over the moon.
This all sounds pretty amazing doesn't it? Well, there's a down side too. Nothing is forever in life, or in the publishing industry, and one day your bubble will burst. A huge rejection will come, so brace yourself. As with all of them, give yourself permission to wallow, have a bath and a large glass of sav, and then suck it up and re-group. At the time you're reading this, self-publishing doesn't even exist but over the next two decades it's going to explode and you will find yourself on another huge learning roller-coaster when it comes to publishing your fifth novel.
Okay, now I'm talking about me, but what I'm saying is be open to possibilities. There are so many options available for writers and creators now – you're going to be flabbergasted at how it all turns out. It will take courage but what doesn't in life?
In the meantime, enjoy every minute of your writing journey. You're in it for the long haul and there's always more to learn. So stop procrastinating and get back to putting words on that page.
Pamela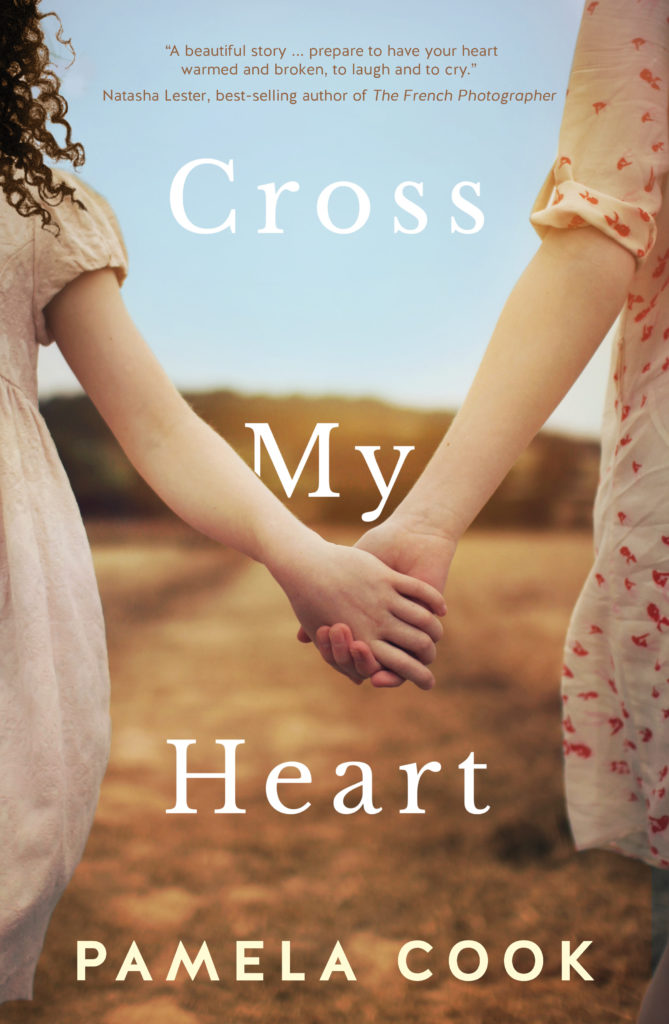 Pamela Cook writes page-turning women's fiction set in escape-worthy places. Her novels feature tangled family relationships, the ups and downs of friendship and explore life issues like grief, belonging and love. Her first novel, Blackwattle Lake (2012) Essie's Way (2013), Close To Home (2015) and The Crossroads (2016). Her September 2019 release is Cross My Heart. Pamela is the co-host of the exciting new podcasts Writes4Women and Writes4Festivals, and is proud to be a Writer Ambassador for Room To Read, a not-for-profit organisation that promotes literacy and gender equality in developing countries. When she's not writing, podcasting or festival planning she wastes as much time as possible riding her handsome quarter horses, Morocco and Rio.
She loves to connect with readers both in person and online:
Twitter: @PamelaCookAU
Instagram: @pamelacookwrites and @w4wpodcast