By JENN J MCLEOD
Dear Jennifer (as you were once known. Mostly when you were naughty!)
Think about this. What would your world look like if you were to become a published author? What would it really mean and what would make you happy? How many books do you want to see published? Right now, as an unpublished author with a dream, you'll do just about anything to see your book on a shelf. Didn't you say you'd pay to make that happen? (Until you worked out there are mean people and despicable companies out there willing to help you do just that for a big wad of your money. It's called vanity publishing and they like to take your money, advantage of writers with a dream and give little in return. So, stay clear of temptation, stay to the path, be patient and, most importantly, write a good story. That's all you'll need to do.)
"Money should flow to the author. Remember that, Jenn."
So, back to the number of books that would see you content. You say, "just one on a shelf in a real bookshop is all I want". Then you'll be able to tell everyone who thought you couldn't, or that you were dreaming: "I did it! I've written a book someone in a publishing house thinks is good enough."
Just one, Jenn? Or will you be hooked and desperate for "just one more". Then I guess it'll become "just one audio edition", "just one with world-wide distribution", and "just one TV mini-series". Maybe even, "just one Nicole Kidman/Reese Witherspoon collaboration"!!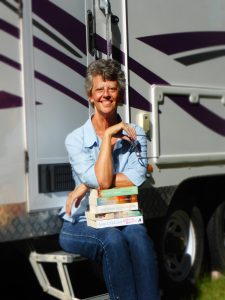 You need to think carefully, Jenn, because the business you are so desperate to enter is terribly addictive. Everything about it: the writing, the subbing, the editing and all the social media stuff that you shouldn't do, but you just can't help yourself. You'll do it because you'll discover the joy of connecting with readers who'll think your books are good enough to spend their precious money and reading time on.
The writing/publishing biz will suck every bit of brain activity as you'll be constantly writing, revising, plotting, and having conversations with fictional friends.
Those in your life who love you will be affected as your compulsion to write overtakes everything else.
Are you ready for that? Are they? Maybe it's a good idea to take those closest along for the ride, rather than keep them on the sidelines. They will, after all, be the ones to pick you up when things go wrong.
And they will go wrong. You'll have to rethink your dreams, takes risks, and make scary decisions. But don't let that stop you.
Yes, you'll make lots of new friends – some will be genuine and be there for the long haul, especially when you need them. Some will use you, and you'll let them because you'll say "no author ever hurt their career by being generous to another author". (I think that gem will come from Julia Quinn, author.)
You won't find the success you're seeking until later in life and you will worry that you're too old, but you will get there, one book at a time.

In fact, your fifth novel will be published worldwide and to critical acclaim. Your story will travel far and so, too, will you – both as a writer and as Australia's nomadic novelist – when you downsize your life into a 25 foot caravan you'll call Myrtle the Turtle. You'll try so hard to belong. (It's what you've always needed.) You'll even drive to the other side of the country and back looking for that connection, that tribe, that genuine mateship.
There'll be disappointments, and while there'll be real joy in new connections made, you will finally realise the place you belong has been right by your side for 35 years: your partner, your wise reader, your wife.
Yes, that will happen one day, too.
In fact, a lot has to happen to you before all this success, including losing the one person who gave you the love of storytelling. Sadly, your mum will pass away two weeks before your debut book launch. But she's watching, always, so try to chill and ditch the self-doubt.
Have fun and enjoy the journey because "every book is a journey". (That's what your website will read!) Oh, and your very first audio book (A Place to Remember) is on its way, too!
Love,
Jenn
Jenn J McLeod was fifty when she started ticking things off her bucket list and so far she's made that sea change, written that bestseller, and downsized her life to a 25-foot caravan named Myrtle the Turtle to do the big lap very slowly. A nomadic novelist since 2014, Jenn has penned five small-town stories, including the 2013 top selling House for all Seasons. Her novels are life-affirming tales of friendship, family, and contemporary country life, with her fifth book, A Place to Remember, available worldwide. Jenn wastes precious writing time posting travel pics and having fun on Facebook, Twitter, and Instagram, so do join her there. 
In addition to her novels, Jenn is published in short form and in industry magazines (including the Australian Literature Review's 'Novel Writing in Australia' education series). She also maintains her own blog and loves connecting with readers online.