Writer Oliver Pendall has enough on his plate working on the set of Multiples, a clone movie based on his bestselling book. All he wants is time to write his next novel, but when he meets the bubbly but disconcerting Kaylie, life as he wants it is turned upside down and inside out. Kaylie's on-off behaviour has him all hot and bothered, and the more he tries not to think about her, the more he falls under her spell.
But Kaylie's not his usual type and Oliver's words are as tangled as his emotions, setting the scene for near-miss that could break more than one heart. Will Oliver see what's right in front of him? Or will he leave it too late?
Light-hearted and funny, Oliver and Kaylie will make you laugh, smile and tingle all over.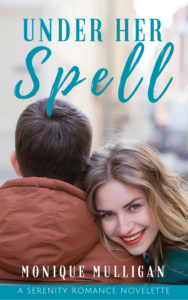 Click here to buy the print or e-versions of Under Her Spell. Or download from Amazon and other eBook retailers.
[maxbutton id="7″]
Or download from Amazon, iBook and other eBook retailers.