IN THIS NEW SERIES, I'M GOING BEHIND THE SCENES (OR, BEHIND THE PAGE) WITH PEOPLE WHO WORK IN THE BOOK INDUSTRY, WHETHER PROFESSIONALLY OR IN A VOLUNTEER CAPACITY. THIS WEEK, I'M CHATTING WITH RILLA FROM STOKER BOOKS ABOUT HER ONLINE BOOKSHOP. GRAB A CUPPA AND HAVE A READ…
How did Stoker Books start?
I was made redundant at my public library job, so I decided to start my own business. I'm a full-time uni student as well, so I work around my school timetable. It was always a dream to have my own little shop, and although it's not a bricks and mortar shop, I love it all the same.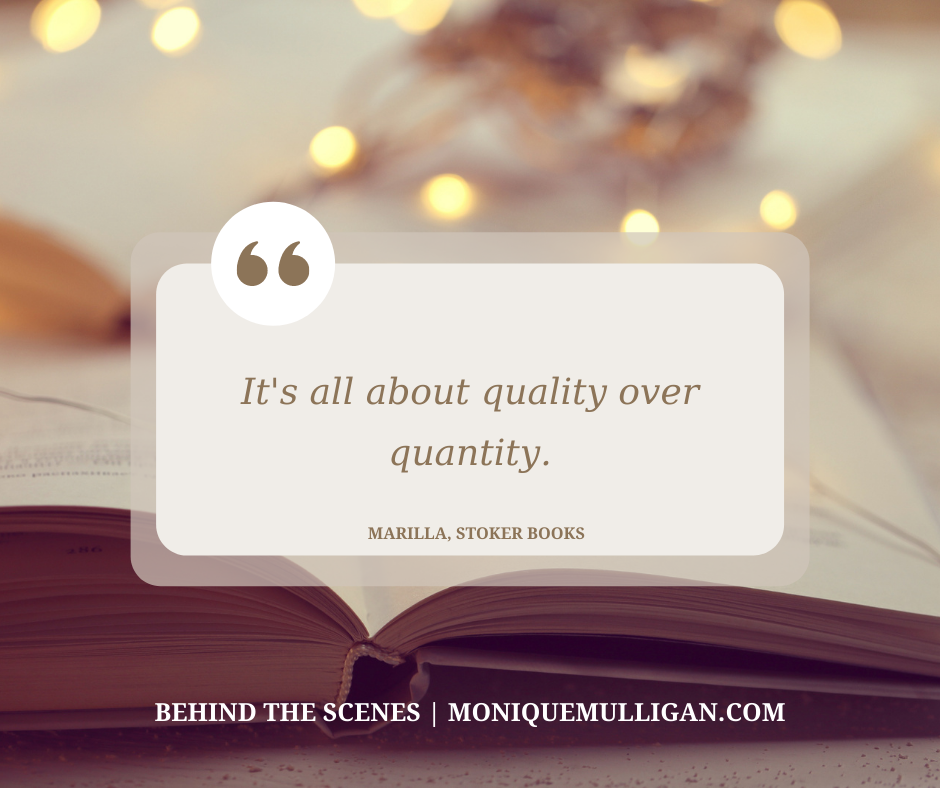 How do you acquire the books you sell? What do you look for?
I have limited room working out of my small office, so I only want to stock books in great condition, titles that you don't see every day, and of course, classics that we all love! I can only stock up to approximately 700 books at a time, so I have to make my selections count.
What do you like most about selling secondhand books? 
I offer a free local delivery service, so it has been wonderful to meet so many like-minded book lovers in my community who love shopping small. It is so fantastic these books are being read again – my customers re-homed 468 books in 2021!
What's the hardest thing about being a bookseller?
Not being able to fulfill every customer request is always a shame, but that is the nature of the second-hand beast. I find it difficult to source the books that I want for the shop too – but I do enjoy the hunt! Oh and having the discipline to not hoard all the cool finds! My best find to date is a signed copy of Carpe Jugulum by Terry Pratchett. I think that's a keeper!
How do you reach potential customers?
Word-of-mouth plays a huge part, especially in my community and surrounding suburbs. I completed a social media unit at uni, and so I learned how to improve my website's SEO. My Instagram and Facebook accounts are growing too, and I have my followers to thank for liking and sharing my posts.

If you couldn't sell books, what would you do?
I would probably knuckle down with my degree – it is difficult juggling both!

Which book are you most looking forward to for 2022?
I rarely read new releases, only because my list of books to read is already so huge! Holly Black, Angela Carter and Flannery O'Connor are the authors I want to try next.
What was the last book that made you cry?
Troubled Blood by Robert Galbraith– tears of sadness that I will probably have to wait two years or more for another instalment (lol). But I definitely had the ugly cries reading Anne of Green Gables!
What's your favourite genre?
Gothic fiction such as Rebecca, We Have Always Lived in the Castle and Jane Eyre. And even more specifically, Southern Gothic – Midnight in the Garden of Good and Evil is my favourite book to date. I'm also a fan of American noir – particularly Jim Thompson (The Killer Inside Me, Pop. 1280).
Do you ever skip to the end of a book?
Never! Is that a thing?
What a fantastic insight to online bookselling. Thanks so much, Rilla!