Dear unpublished self of 24 May 2013, who just wrote this gushy Facebook post:

You've taken on an ambitious project, and I'm proud of you. You've worked hard, researching with patience and developing a writing practice. And now you've completed this mammoth first draft. Though you know it needs editing, you suspect great things are in store for this manuscript.
The trouble is that you don't know what you don't know. You've been an avid reader since childhood, so you're under the delusion that you know how to write a book. But you've also lived in houses all your life, and you definitely can't build a house, at least not a house that would pass basic safety inspection. No one would enjoy living in a house with sparking electrical, a leaky tarp roof and a bucket for a toilet. And no one is going to enjoy reading that monstrosity you've just boasted about, at least not until you actually learn how to write.
I know you've taken writing classes and read books on writing. But if your book is like a house, there's still a lot to learn. Your foundation might be great, your carpet installation might be almost professional, but that staircase is a death trap, and the front door is jammed shut. 
Part of the trouble is that when you read your own writing, you can see the scene in vivid detail. Your mind fills in the gaps on the page. You remember the emotion (you were there, after all; it's non-fiction). So your manuscript, to you, seems as good as many published books. This is a cruel trick. 
At least by this time you've moved past your hubris, the youthful instinct to take offense at any suggestion that your writing isn't perfect. Remember that short story editor in 2011, whose feedback was so insightful and well-worded that you realised she wasn't criticising your work, but striving to make it better? Which means you, in 2013, are open to feedback. When you chop this draft down to 100,000 words and get a manuscript assessment, you'll take the advice to heart. 
Let's talk about the unknown unknowns. You don't know how to present your arguments so readers can draw their own conclusions. You don't know how to draw readers through your text, to create energy and momentum on the page. You don't even know how to shape a scene. That last one is essential. Until you learn that – three long years in the future – you won't get far with your writing.
The good news is you will learn these things. It will be a nonlinear, chaotic, and sometimes frustrating process, but eventually you'll condense that 190,000-word beast into a 5000-word essay that is poignant and balanced. That process will take multiple revisions over two years. But when Griffith Review publishes that essay, it will be your first real rush of success. It's just one essay, but it starts to open doors.
It's also good that you're the kind of person who can't stick to one project. That you'll go on to write another manuscript, and another, bringing the total to five, if you count those two ridiculous novels you wrote in high school and university. And meanwhile you'll keep working away at smaller projects too, developing a portfolio of published pieces, sharpening your skills along the way.
In 2019 you'll be shocked when your first book is published, and it's not one of those five manuscripts. Instead, it's a collection of short pieces, a novella and essays. It represents the absolute best of your writing so far. You never intended these pieces to be a book and yet here they are: a book. A book with momentum and energy, that pulls readers through and lets them draw their own conclusions.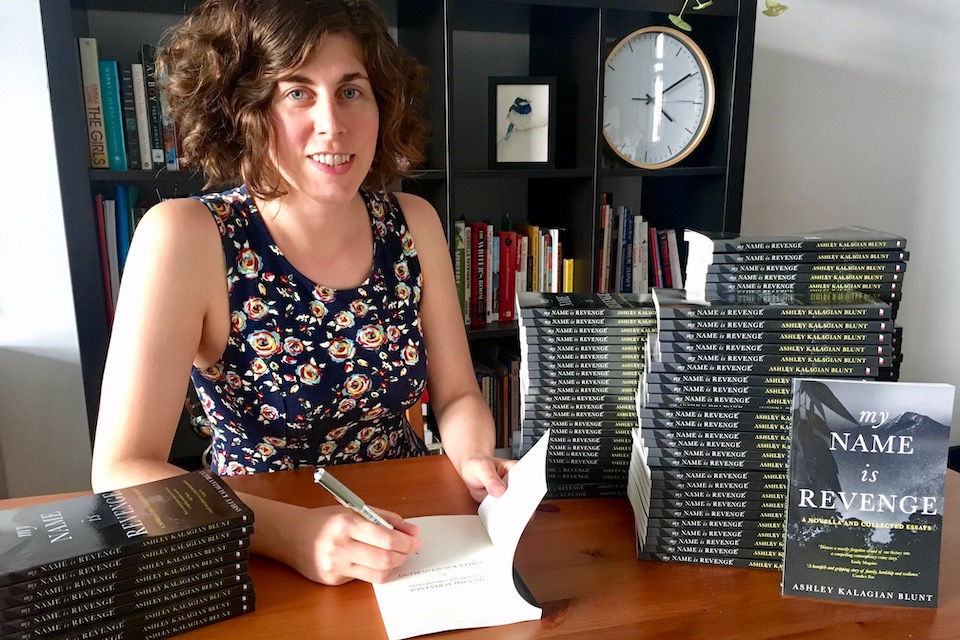 The key thing you'll learn over the six years between that first draft and this first book: there's so much to learn, and if you can enjoy that process, despite its chaos and uncertainty, writing will bring you great joy.

With love,
Ashley
Ashley Kalagian Blunt is a Sydney-based author. Her first book, My Name Is Revenge, was shortlisted for the 2019 Woollahra Digital Literary Award and was a finalist in the 2018 Carmel Bird Digital Literary Award. Her writing appears in Griffith Review, Sydney Review of Books, Westerly, the Australian, the Big Issue and Kill Your Darlings, and her non-fiction work Full of Donkey: Travels in Armenia was shortlisted for the 2018 Impress Prize and the 2017 KYD Unpublished Manuscript Award. Ashley has appeared at Sydney Writers' Festival, Story Club, and the National Young Writers' Festival, and is a Moth StorySLAM winner.